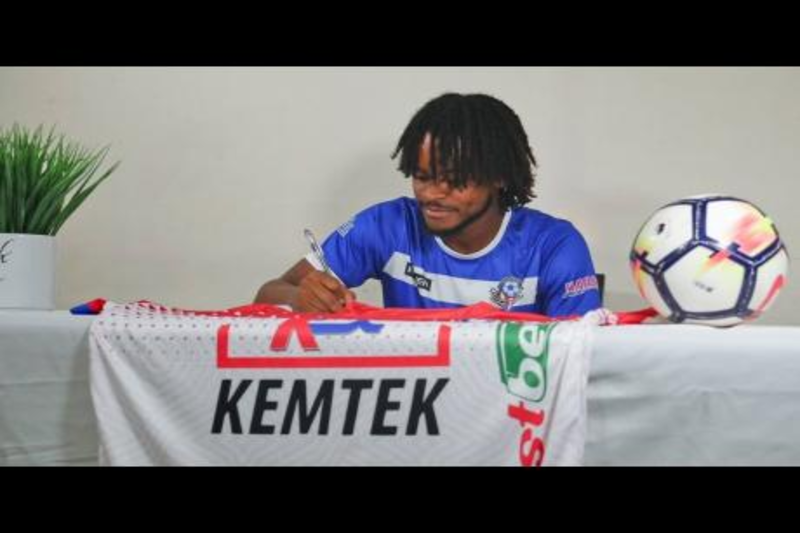 Portmore jump to sixth with win over H View
Portmore United climbed into a Jamaica Premier League (JPL) play-off spot for the first time this season, after Alex Marshall's first-half goal gave them a 1-0 win over Harbour View in the battle of the in-form teams at the Ashenheim Stadium yesterday.
Marshall fired home in the 24th minute when goalkeeper William Benjamin failed to hold Lamar Walker's shot, and the attacker scored from five yards.
The win lifts Portmore, who had dropped a place to eighth after Dunbeholden won earlier in the day to 31 points, similar to Waterhouse, but they lead on goal difference.
The result also signalled a return to form by Marshall, who has scored in three successive league games and wins for Portmore.
"From you are in the right position, things are going to happen," the 25-year-old told STAR Sports.
"Once you are winning games, the more the team will be boosted. So we have to keep going because we don't like the feeling of losing and drawing games. We also had back-to-back clean sheets, so we have to credit the defenders," he said.
Both teams started the game purposefully, and Portmore's Stephen Young had a header cleared off the line early on.
Portmore broke the deadlock when Benjamin parried Walker's shot, which Marshall pounced on from six yards.
Gawayne Austin nearly added a second for Portmore, but his header crashed against the bar in the second half.
Harbour View had opportunities of their own through Garth Stewart, but twice the midfielder failed to make solid contact from close range and both chances were wasted.
Portmore were looking better towards the end, and Marshall, who had an outstanding game, came close to adding another after making room for himself in the area.
Harbour View have lost both games to Portmore this season, with no goal against them either and coach Ludlow Bernard said their opponents made it difficult for them.
"It seems as if this team can contain us going forward. We still created opportunities, we just needed a bit of composure in front of goal, but we just weren't able to come up with that right pass or contact to get us back in the game," he said.
Meanwhile, Waterhouse can reclaim the sixth spot with a win over Faulkland this evening at the Montego Bay Sports Complex at 5 p.m.
livingston.scott@gleanerjm.com
YESTERDAY'S RESULTS
Cavalier 1 vs Tivoli 0
Humble Lion 2 vs Vere 0
Dunbeholden 3 vs Molynes 2
TODAY'S MATCHES
Faulkland vs Waterhouse at 5 p.m.
Montego Bay United vs Mount Pleasant at 7:30 p.m.
Both matches at the Montego Bay Sports Complex