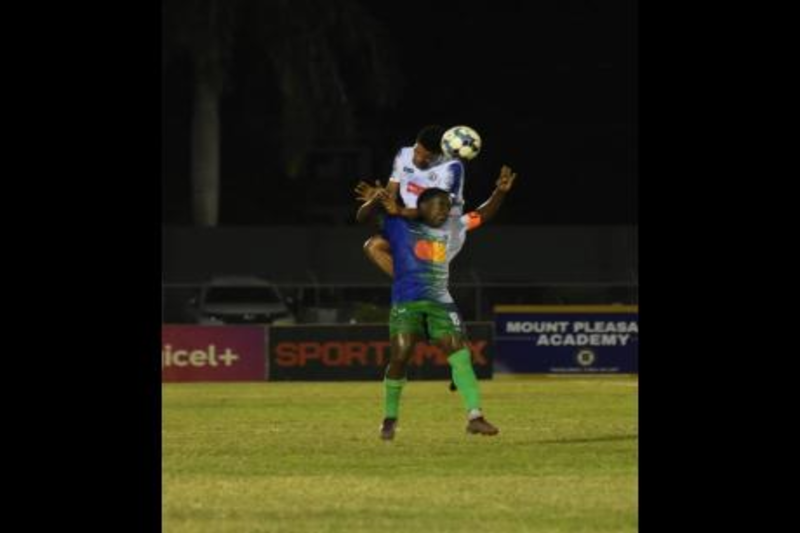 MoBay, Mount Pleasant draw
Mount Pleasant's winless run in the Jamaica Premier League (JPL) was extended last night to four games after a 2-2 draw with Montego Bay United (MBU) at the Montego Bay Sports Complex in Catherine Hall.
MBU took an early lead, just nine minutes into the game, when Shaquille West turned in a brilliant pull-back behind the defence line by Courtney Allen just inside the penalty box on the left.
Mt Pleasant found the equaliser in the 22nd minute when Donovan Segree's shot got a deflection and lobbed goalkeeper Davonnie Burton.
A brain-fade tackle from Shaquille Dyer inside the box saw MBU regain the lead in the 25th minute from the penalty spot when Nevaun Turner slotted the ball into the bottom right corner just beyond the sparing dive of goalkeeper Daniel Russell.
Mt Pleasant came out in the second half vibrant and came close to an equaliser in the 51st minute, but goalkeeper Burton came up trumps with a point-blank save at his near post.
The visitors kept knocking at the door, and just when MBU thought they would snap their 10-game winless run and were looking to manage the game, Demario Phillips headed home their third consecutive corner kick in the 86th minute to give Mt Pleasant a share of the points and prevent three losses in a row.
Theodore 'Tapa' Whitmore, coach of Mt Pleasant, said despite now four games without a win, his biggest concern is their defence.
"I think it was two points lost. We could have been more patient in the opponent's final third. So we went behind, we tried to rush the game a bit, but I think it was a point deserved," said Whitmore.
"The concern I have right now is the fact that we are conceding. If you look at the first half of the season, we were a defensive unit that was hard to break down," he added.
MBU's Brazilian coach Leonardo Neiva said despite missing out on three points in the closing minutes of the game, he is pleased with the performance and fight they showed.
"I think we deserved to win this match. The entire game, we created more chances, although we gave up some, but that's part of the game," Neiva said.
"I am very proud of the players tonight. They played football with and without the ball. We were up against a very strong team, a very rich team for technically very sound and physically bigger than us in terms of size, but we match that with speed," he added.
In the day's other match at the same venue, Waterhouse defeated Faulkland 3-2.