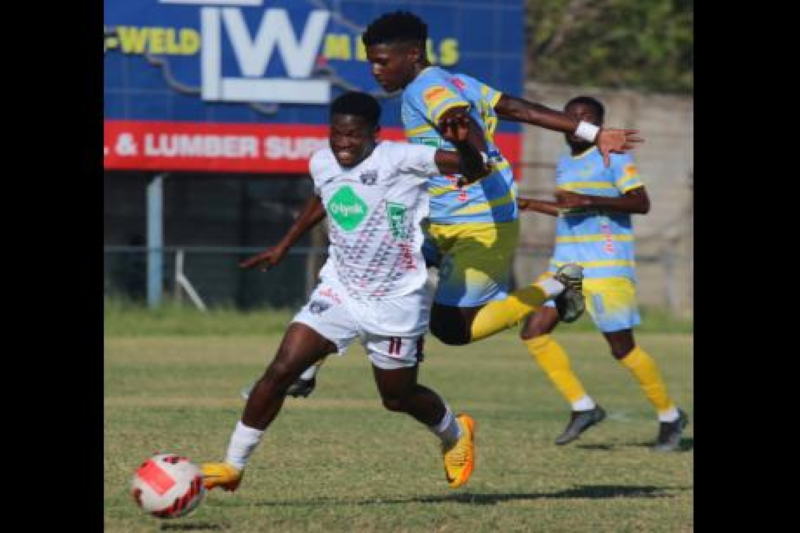 Bradford's double lifts Waterhouse over Maroons
Shaqueil Bradford came up with two second-half goals that helped Waterhouse to a 3-2 win over Chapelton Maroons in the Jamaica Premier League yesterday at the Waterhouse Stadium.
It was Chapelton Maroons, despite playing on Waterhouse's home turf, who were the designated hosts, and they looked very much at home in the first half and duly took an early lead in the 25th minute, following an excellent finish from Kristoff Graham.
The one-goal lead held until the 65th minute when Waterhouse equalised immediately after Maroons' head coach Clovis de Oliveira substituted defender Osani Ricketts. Bradford turned home a spurned save from goalkeeper Mikhail Harrison to level the score.
The goal sucked the momentum out of Maroons, who would go further behind two minutes later when Alex Gayle turned a left-sided free kick from Damion Binns into his own goal.
Waterhouse would go in for the kill and duly got a third goal when Bradford rocketed home a left-sided effort in the 73rd minute to send their fans into ecstasy.
The ever-running Maroons failed to give up, and they scored a second goal seven minutes from time, when Gayle made up for his own goal, with a close-range tap-in, after Romain Blake's failed attempt at a clearance inside the area.
Waterhouse would, however, see out the rest of the game to secure their eighth win of the campaign and hand Chapelton Maroons their 11th loss.
"We made a lot of mistakes in terms of how we defended, but we actually scored three goals today, which is a very good sign for us. We are looking to use this momentum as a team to move forward," said Waterhouse's assistant coach Damion Gordon.
Brazilian coach de Oliveira said he enjoyed the encounter despite the result not going in his favour.
"It was a nice game, unfortunately, the result was terrible for us. We controlled the game with a lot of young players, but we need time to correct some of those individual mistakes, and we will continue," de Oliveira said.
YESTERDAY'S RESULTS
Cavalier 3 vs Dunbeholden 1
Tivoli Gardens 0 vs Faulkland 0
Chapelton Maroons 2 vs Waterhouse 3
Arnett Gardens 1 vs Montego Bay United 1
TODAY'S MATCHES
Vere United vs Molynes United at 5 p.m.
Harbour View vs Humble Lion at 7:30 p.m.
Both matches at the Anthony Spaulding Sports Complex