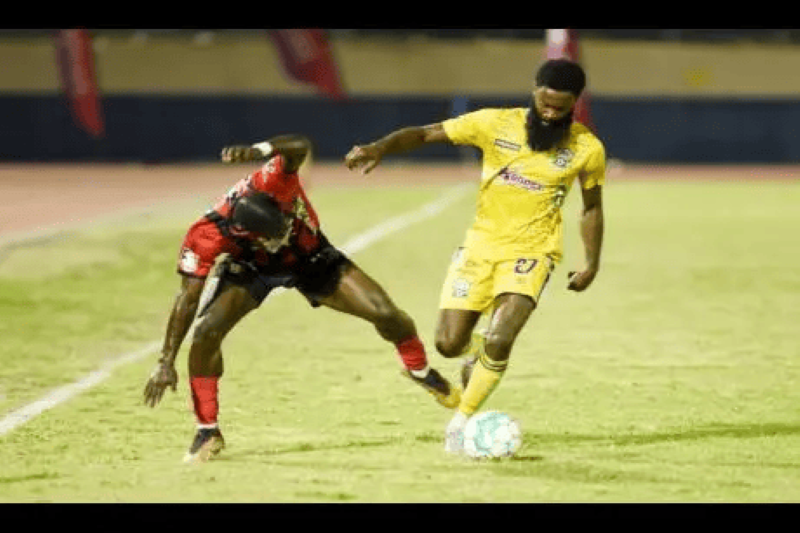 Veteran Reid powers Arnett to 5-1 win over Molynes
Fabian Reid's hat-trick provided Arnett Gardens with an impressive 5-1 win over Molynes United in the Jamaica Premier League (JPL), as Arnett climbed to the top of the JPL standings at the Ashenheim Stadium last night.
Reid netted in the 25th, 45th and 52nd minutes, while Ajuma Johnson in the 31st and Jaheim Thomas, three minutes into second half added time, aided in Arnett's sixth straight victory.
"I feel good scoring goals, but I am not thinking about myself. I am thinking about the team," said Reid, who took his tally to 11 for the season.
"It is the right time of the season to find form, and we just want to continue working and playing good football.
"I could have scored more because I got other chances, but I just have to go back and work on the mistakes I made," he continued.
Arnett started spritely and deservingly took the lead when Reid tapped home from two yards after 26 minutes.
Johnson followed up with a second goal six minutes later before the 30-year-old Reid steered home a cross in the 42nd minute to put Arnett 3-0 up.
Damion Johnson pulled a goal back for Molynes five minutes after the break, however, Reid re-established Arnett's three-goal cushion when he got on his stomach to head in a ball he controlled two yards out. He received minor criticism from some fans, who believed it lacked sportsmanship.
"You have to enjoy yourself, and that was just enjoyment," Reid commented.
Thomas then secured the win in added time with a low strike for the Paul 'Tegat' Davis-coached Arnett.
Molynes coach, Alex Thomas, believes it was one of their worst days at the office.
"We started out lethargic. We were slow to the first and second balls, and it was just one of those games," he said.
Molynes have now failed to win in three matches. They remain in 11th on 16 points.
Arnett, with 36 points, lead the JPL table by one point over Mount Pleasant, who play third-place Cavalier today.
livingston.scott@gleanerjm.com
YESTERDAY'S RESULTS
Harbour View 5 vs Faulkland 1
Dunbeholden 4 vs Tivoli 1
Humble Lion 0 vs Montego Bay 0
Waterhouse 2 vs Vere 0
Arnett Gardens 5 vs Molynes 1
TODAY'S MATCHES
Portmore vs Chapelton at 5 p.m.
Mount Pleasant vs Cavalier 7.30 p.m.
Both matches will be at the Anthony Spaulding Sports Complex