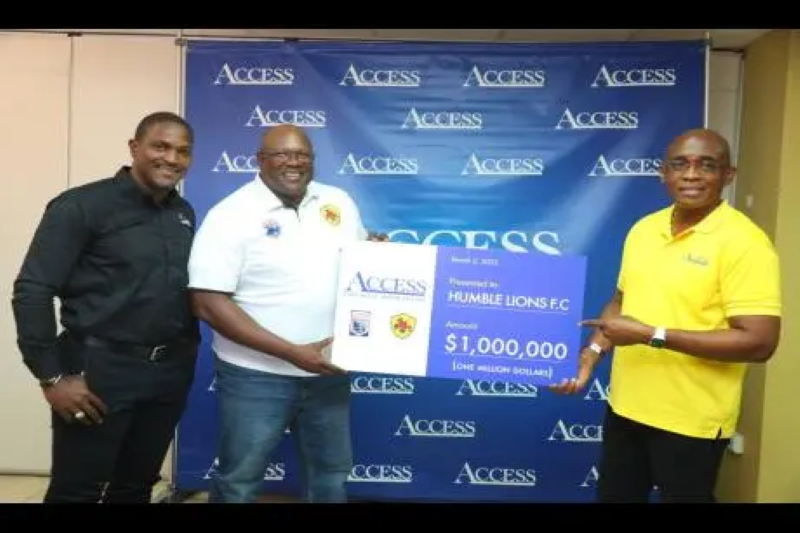 Humble Lion score $1m support from Access
Humble Lion, in addition to earning key points recently that place them within firing range of the Jamaica Premier League's (JPL) top spot, have scored a big win off the field after signing a $1 million sponsorship deal with popular microfinance entity Access Financial Services.
Interestingly, the sponsorship comes as Humble Lion redouble efforts to claim crucial points to push past Harbour View. Both are on 29 points, with Harbour View's superior goal difference placing them in fourth position, ahead of Humble Lion. Both will clash on Monday at Stadium East.
"The timing of this support could not be more perfect. It has come right when we need it the most. It really allows us to focus on the game and the preparation of the players as we press for a spot in the final four.
"We're truly grateful to Access and we will do everything we can to represent your brand well," pledged Humble Lion coach Andrew Price at the official signing ceremony held at the Access Financial head office in Kingston last Friday.
The 29 points surpass the 28 Humble Lion Humble they collected last season, and buoyed by recent performances, including their win over Molynes United FC, they are optimistic about a play-off berth.
In expressing appreciation to the lending organisation, Professional Football Jamaica Limited (PFJL) chief executive officer Owen Hill described the deal as a partnership with national impact.
"This is not just about one team. We're welcoming Access into the Jamaica Premier League and giving them access, pun intended, to all 14 clubs across Jamaica. Beyond support for football, Access has a reputation for building franchises, and we look forward to what they can offer our players and their organisations off the field of play," Hill said.
Microfinance entity Access, with the relationship now official between the JPL, is looking to create opportunities to support players across the league, who are also pursuing business ventures.
"We're happy to be joining the JPL fraternity not just because we believe in football but because we also believe in the value we can bring to the lives of these young men. Many of these players and their families have small businesses that need support, and we're here to help them grow in that area as well," said Access Financial acting chief executive officer Hugh Campbell.