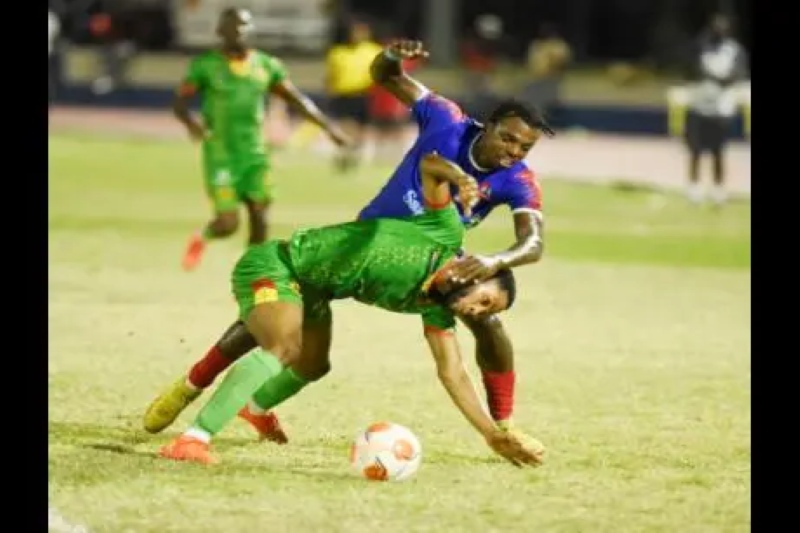 Vanzie shines as Humble win
Andrew Vanzie turned up big again with a goal and an assist for Humble Lion in a 2-1 win over Dunbeholden in the Jamaica Premier League (JPL) at the Ashenheim Stadium last night.
The Humble Lion captain scored one of the goals of the season when he fired home a third-minute free kick.
Dunbeholden tied the game through Shakeen Powell, but the former national representative, Vanzie, set up Javon Smith with an excellent 60-yard pass to secure Humble Lion's win in time added.
"Definitely (best dead ball specialist in the league). He reminds me of Jermaine Hue," stated coach of Humble Lion, Andrew Price, comparing Vanzie to the former Harbour View and Jamaica dead-ball specialist.
"It's money whenever he stands over it, so whenever I get a free kick and Vanzie stands over it, I normally rest easy, Price continued, pointing out that Vanzie has five goals and three assists to his name this season and has been scoring these goals for years.
"It's not the first. He always steps up. He practises these free kicks at training religiously, and when he scores, it's not a surprise, and that free kick was well taken. We need him in the game when we get those set-play opportunities," he said.
The match was only three minutes old when Vanzie whipped a wicked free kick over the Dunbeholden wall and off the crossbar past Damion Hyatt in goal.
Both teams traded good attacks throughout the first half, but neither could find another goal.
Dunbeholden drew level six minutes after the interval when Powell picked up a slick pass from Dean-Andre Thomas, cut inside his marker and fired past Prince-Daniel Smith.
Dunbeholden tried hard to get the go-ahead goal, but it was Humble Lion who got a slew of chances towards the end but could not convert.
Dunbeholden also created a couple of openings where Thomas should have provided them with the lead, however, it was Humble Lion who stole it at the death when Smith latched on to Vanzie's speculative pass and fired past Hyatt.
"Lack of concentration in the last minute cost us the game," said Dunbeholden assistant coach Craig Richards.
"This is just the start of the second round. We still have 12 games, so we can garner enough points. We will just take it game by game."
Humble Lion overtook Harbour View in fourth with 24 points, seven behind league leaders Mount Pleasant. Dunbeholden remained in sixth on 19 points.