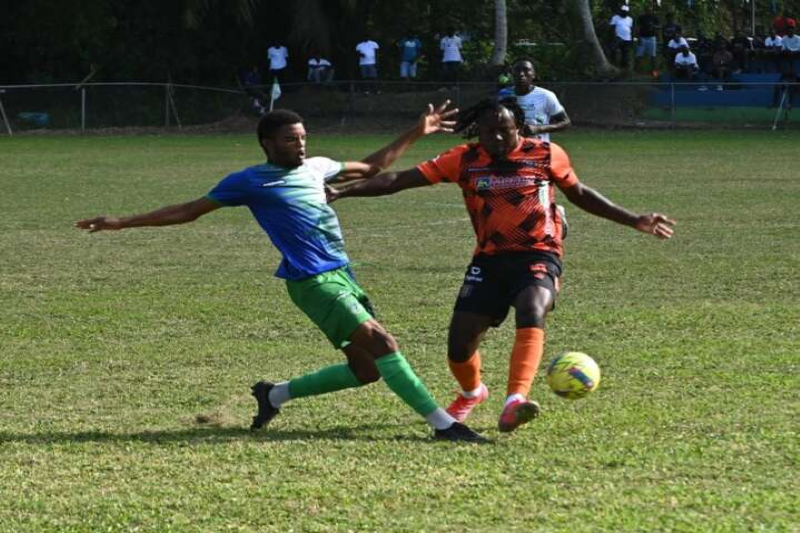 Tivoli's 'Teddy' Johnson urges focus despite winning run
TUCKER, St James — Tivoli Gardens continued their climb up the Jamaica Premier League standing after beating sputtering Montego Bay United 3-0 in their first-round game at Wespow Park on Sunday.
Rodico Wellington scored twice within a three-minute span early in the game to set the tone for Tivoli Gardens to win their third-straight game.
Tivoli Gardens, who move to ninth in the table, have earned 10 of their 16 points in their last four games.
It was back-to-back losses for Montego Bay who slipped to 10th place with 15 points. They have have lost four of their last five games.
Wellington scored in the 13th and 15th minutes while Barrington Pryce came off the bench to score a penalty in the 86th minute to complete the scoring.
There were approximately seven minutes of stoppage time in the first half after Montego Bay midfielder Ewan Barton appeared to have been knocked unconscious when he collided with Tivoli Gardens' Odean Pennycooke.
Barton was stabilised on the field by paramedics and then taken to a medical facility. The Jamaica Observer learnt he was conscious and aware.
After the match Tivoli Gardens Head Coach Jermaine Johnson said his team should not get carried away by the recent positive results.
"It's a good team against a good team but we need to go back to train and continue to do the right things.
"We always try to start the game fast and I am happy with the win. We controlled the midfield and got more runners and we kept a clean sheet, so that is important for us."
Donovan Duckie, the Montego Bay head coach, admitted there was some cause for concern.
"You have to be concerned... we need points — that is important," he told the Observer.
"We have lost two consecutive games now but stats show we always rebound, but we are inconsistent."
Duckie said the absence, through suspension, of central defender Kevin Graham — who was sent off in their loss to Harbour View — affected the team.
"We were not organised and his presence was missed but this is where the team has to step up, when we lose players," he said.
Wellington shot Tivoli into the lead when his precision-guided free kick flew into the top, right-hand corner of the goal.
The score was doubled moments later when the stunned Montego Bay defence allowed Wellington space at the top of the box for him to shoot past goalkeeper Davonnie Burton.
Late in the game when the home team was battling to mount a comeback, Donovan Brown inadvertently handled the ball inside the 18-yard box. Pryce buried the resultant penalty kick high into the goal.