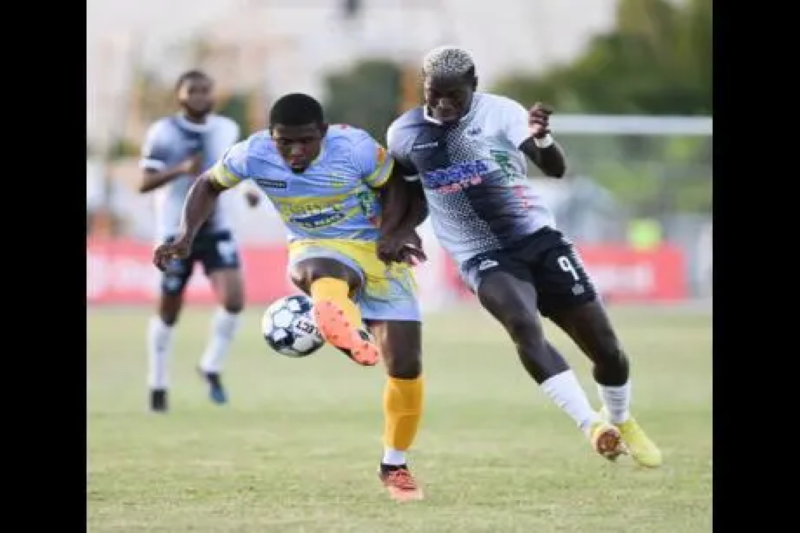 Waterhouse rebound with 1-0 win
Waterhouse rebounded from their defeat in the last round of Jamaica Premier League (JPL) with a morale-boosting 1-0 win over Cavalier at the Ashenheim Stadium (JC) yesterday.
Shaquille Bradford got the game's only goal 68 minutes into the contest but the Drewsland-based Waterhouse had goalkeeper Kemar Foster to thank for the clean sheet.
"It starts from the training ground. You have to work hard. It takes confidence and I try to go out and enjoy the game and once you do that it comes naturally," said Foster.
The win pushes Waterhouse three places up the table to sixth with 16 points and assistant coach Damion Gordon believes it displayed Waterhouse's mettle.
"It (win) shows character and this is a Waterhouse team that has a lot of fight. We grew in confidence in how we were passing the ball and we executed on that chance," Gordon commented.
"We also knew we didn't perform well in the Tivoli game and this was a good game to show our quality."
In a keenly contested match, both teams had numerous chances, however, Cavalier had more. Dwayne Atkinson and Colin Anderson had the best of the lot but Foster was equal to the test.
After the break, Cavalier continued to create chances but Anderson and Atkinson squandered them.
Eventually, Bradford made them pay when he popped up to finish off a slick build-up by Waterhouse.
Cavalier desperately went in search of the equaliser but Shaniel Thomas failed to connect with their two best chances late in the game.
"We created so many chances, and we thought Waterhouse would create one good one and get all three points.
"We only have ourselves to blame, we should have really done better with those chances," said Rudolph Speid.
Cavalier slipped to second in the table with 22 points, two behind Mount Pleasant, who got the points after Chapelton failed to show for their match at the Effortville Community Centre.
livingston.scott@gleanerjm.com
YESTERDAY'S RESULTS
Tivoli Gardens 2 vs Molynes 1
Harbour View 1 vs Montego Bay United 0
Humble Lion 1 vs Portmore United 0
Cavalier 0 vs Waterhouse 1
Chapelton Maroons failed to show for their match against Mount Pleasant
TODAY'S MATCHES
Vere United vs Dunbeholden at 5 p.m.
Arnett Gardens vs Faulkland at 7:30 p.m.
Both matches will be at the Anthony Spaulding Sports Complex