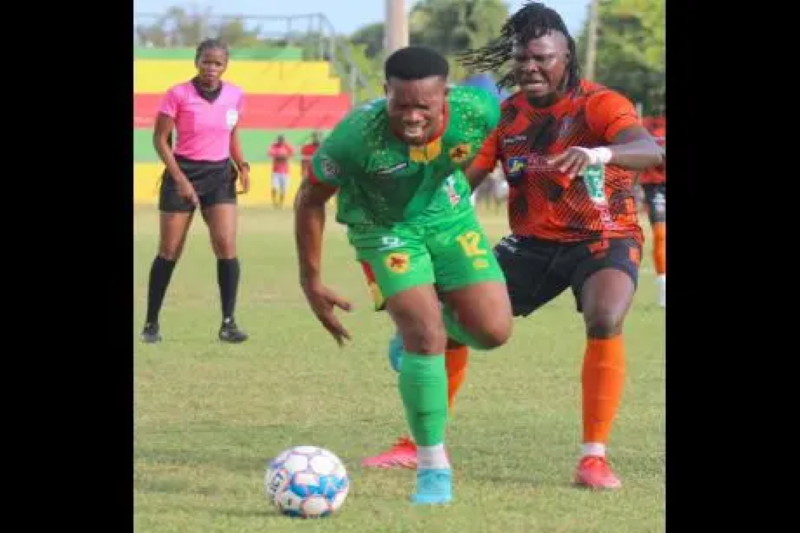 Humble Lion earn scrappy 1-0 win over Tivoli
Humble Lion and Tivoli Gardens players seemed to still be in the festive mood from the holiday break during their Jamaica Premier League match at Effortville Community Centre in Clarendon yesterday, with hosts Humble Lion earning a 1-0 win.
Both teams scrapped their way from referee Nerissa Goldson blew the opening whistle until the second stanza, with the first failing to produce any real spark as both looked sluggish and lethargic.
The only excitement was in the 38th minute with Tivoli's Rodico Wellington 30-yard drive having Humble Lion's goalkeeper Prince-Daniel Smith pulling off a superb save.
The urgency and application stepped up somewhat in the second half, more so with Humble Lion, who took the lead immediately after the resumption.
Andre Clennon knocked down a long ball from the right into Tivoli's area for Shamari Dallas, who turned on his left and fired past a diving EKewong Watkins in goal for Tivoli in the 46th minute.
Tivoli players remonstrated to referee Goldson that Clennon had handled the ball in the area, but were not daunted on the resumption and made a few telling attacks during which defender Linval Lewis was booked for a foul.
Central defender Lewis, barked expletives at referee Goldson in protest and was immediately sent to the showers in the 57th minute for his second bookable offence.
Humble Lion, now with a man short, defended stoutly for the remainder of the match and held on to secure the three points despite substitute Diego McKenzie getting a glorious chance to snatch a point for Tivoli, with three minutes remaining.
Humble Lion coach Andrew Pryce was pleased that they were able to secure back-to-back 1-0 wins to kick-start their run heading into the New Year, after also defeating Arnett Gardens in the previous round of matches.
"It wasn't a pretty game as we saw a lot of party lag today. Having these games during the Christmas break is always going to be difficult, but we came and gave a good fight," said Pryce.
Tivoli coach Jermaine Johnson was disappointed that they were not able to come away with even a point.
"It was a hard-scrappy game, but we knew we were not going to get a good game down here because the pitch is not the best. We came into this game with confidence to get three points or even a draw, but it didn't work out," Johnson said.