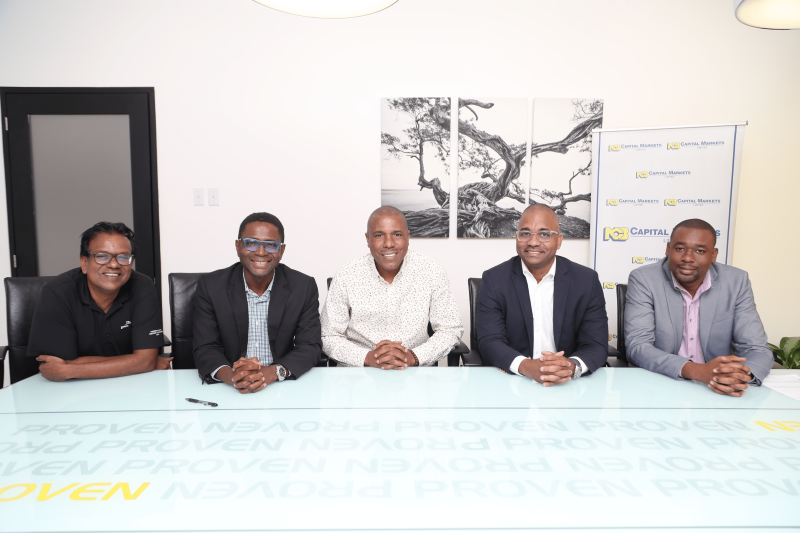 PwC Jamaica and NCB Capital Markets helping Ja Premier League Clubs Raise Equity
For Immediate Release
July 14, 2022
PwC Jamaica and NCB Capital Markets helping Ja Premier League Clubs Raise Equity Financing
PwC Jamaica (PwC) and NCB Capital Markets Limited (NCBCM) are independently working with Professional Football Jamaica Limited ( PFJL), to support the equity monetization for three [3] Jamaica Premier League Clubs..
In what is regarded as revolutionary and game-changing for the Jamaica Premier League and football nationally; PwC will act as Advisory consultants working with each of the Clubs to assist with the preparation of a business plan to be issued to prospective funders, along with the development of an indicative valuation and financial projections/financial model, and to advise on covenant setting. PwC will be liaising with NCBCM who are acting as financial advisors. Together in their independent professional capacity they will work with each Club to determine their most viable equity option; while NCBCM may opt to broker the equity deals for each Club.
The desired outcome is the strengthening of the Clubs that is attained by improved funding and governance. For Chris Williams, who has served as Chairman since the first season under the new PFJL, this will continue to prove that "There is money in football, and it is time to grow the local industry as an attractive and viable business sector."
Ultimately, the return on investment is beyond business outcomes, which all partners recognise. "PwC Jamaica is extremely proud to be assisting in this very critical sporting activity which is so important to so many communities and is a great platform for the advancement of many of our young males in these communities.", Wilfred Baghaloo, PwC, Partner, Deals, Southern Caribbean .
"Football in Jamaica is a positive force that brings communities together and reinforces a sense of discipline and teamwork among our youth. This venture stands to provide the clubs with the capital needed to accelerate the growth and development of the League and the sport at large. Globally, the business of football has been widely successful at generating wealth, with several clubs listing on stock exchanges. As a sector, sports in Jamaica have largely been underfinanced, especially when compared with the level of investment made by the private sector in other countries. We see this as the first step to changing that reality. We are excited to be a part of this ground-breaking initiative that will elevate the sector and offer players, fans, and other stakeholders a seat at the table. Providing wealth creation opportunities for all through investments fits squarely within NCBCM's philosophy, we are grateful to be at the helm as football in Jamaica enters a new era." – Sekou Crawford, Assistant Vice President of Jamaica and the Northern Caribbean.
The Jamaica Premier League participating Clubs are the Arnett Gardens Football Club (AGFC), Montego Bay United Football Club (MBUFC), and Portmore United Football Club (PUFC). All these Clubs offer attractive value propositions that will allow them to leverage the financing received. Arnett Gardens, one of the most popular Clubs of the League, has strong community ties and one of the best stadia in Jamaica: which are valuable assets in building the Club. Montego Bay United, which also owns its own facilities that can be expanded to host special tournaments and events, will keep its focus on both player development as well as the international event market for football. Portmore United, four-time Jamaica Premier League champions, will leverage their on-the-pitch successes and continue their journey of growth and transformation.
In articulating what this represents to them the Clubs had this to say:
"This demonstrates the focused efforts of Portmore United to continue on its path of professionalisation – on and off the pitch. With a successful IPO, the Club would be able to continue its expansion, which would include the development of a professional women's team, as its first initiative, as we see women's football at the highest level in Jamaica to be deserving of such investment." Gary Sinclair, Director, PUFC.
Arnett Gardens is also focused on the players development and advancement and sees an IPO as an opportunity to attain their goals in this area. "By individuals and institutions putting forward the investment, we can focus on bringing the components together to successfully recruit and develop players for the international transfer market. This will open doors for us, so we will be able to search for the best talents, which will ultimately raise our quality of football in Jamaica." Peter Thelwell, General Manager, Arnett Gardens FC. Thelwell added that "we are enthused by the opportunities that the venture will open for the business of football, and AGFC would like to extend its appreciation to both PwC and NCB Capital Markets for the confidence they have shown in Jamaican talents and local football."
With a clear international focus, Montego Bay United FC considers this initiative as one that could definitely move Jamaica's football to become a significant product like our music and athletics. For Orville Powell, President, "We can now be properly capitalised, with stronger governance and go forward as a business. For professional football in Jamaica, this is a bold step in the right direction, and I am looking forward to what will follow for other Clubs and the League."
The PFJL signed separate independent Agreements with these professional advisory and financial institutions on Thursday, July 14, 2022. The project begins formally on July 18, 2022.
- END -
---
Background:
The Professional Football Jamaica Limited (PFJL), was established in 2020 and charged with the professionalisation of football in Jamaica. Its scope is derived from the mandate of the commercialisation of the Jamaica Premier League, under a Memorandum of Understanding with the Jamaica Football Federation (JFF). An aligned strategic plan [JFF-PFJL] has a principal pillar of commercialisation that is to achieve diversified revenue – for both the League and the Clubs.
The PFJL in its own structure and governance is shifting towards global models and best practices. It is now focussed on working with all interested Clubs to do the same.
As international models show, there is a shift from the traditional Club [membership] model to true commercial entities. A part of the shift is a trend in the attraction of private investors as owners of the Clubs. Private investment with the ownership structure as corporations has resulted in their improved ability to attract further investment and partnership. This has been a contributor to the growth of these Clubs. In addition to the trend in private ownership has been that some of these entities are established as sport, or sport entertainment entities, and not just as a Football Club.
As the PFJL, which has all Jamaica Premier League Clubs as its members, continues the professionalisation this project aims to accelerate the development of the participating Clubs.
The Project:
The PFJL is engaging with leading institutions (i) PriceWaterhouseCoopers Tax and Pw C, as consultants and (ii) as financial advisors – NCB Capital Markets Limited, NCBCM to work with three [3] Jamaica Premier League Clubs to firstly determine the best equity option for each Club, and secondly to broker the equity deals for each. The desired outcome is the strengthening of the Clubs attained by improved funding and governance.
About PwC
At PwC, our purpose is to build trust in society and solve important problems. We're a network of firms in 156 countries with over 295,000 people who are committed to delivering quality in assurance, advisory and tax services.
PwC Jamaica advises more companies listed on the Jamaica Stock Exchange than any other professional services firm in Jamaica. We also provide services to SEC registrants, international conglomerates and statutory bodies. Our client base includes firms engaged in banking, insurance, manufacturing, retail and distribution, tourism, mining and agriculture. In short, all the significant sectors of the Jamaican economy.
Find out more and tell us what matters to you by visiting us at www.pwc.com.
About NCB Capital Markets
NCB Capital Markets Ltd. is the wealth and asset management arm of the National Commercial Bank offering investment options and advice for institutions and individuals. NCB Capital Markets Ltd. is one of the pioneers of the equity market in Jamaica, holding one of the first five seats on the Jamaican Stock Exchange. Started in 1968, by Edward Esau Gayle as an equity boutique to facilitate the development of a vibrant stock market in Jamaica, the company is the oldest operational brokerage house in the English-Speaking Caribbean.
In 2002, Edward Gayle & Company became a wholly owned subsidiary of the NCB Group, and following a merger with NCB Investments Ltd., was later re-branded as NCB Capital Markets Limited in December 2003. NCB Capital Markets Ltd. is now one of the largest stockbrokers in Jamaica consisting of 11 branches. The company is a full-service wealth advisory and asset management firm.
These products and services cover a range of equity, money market, global bonds and mutual fund products, as well as corporate finance and portfolio management services for individual and institutional investors.