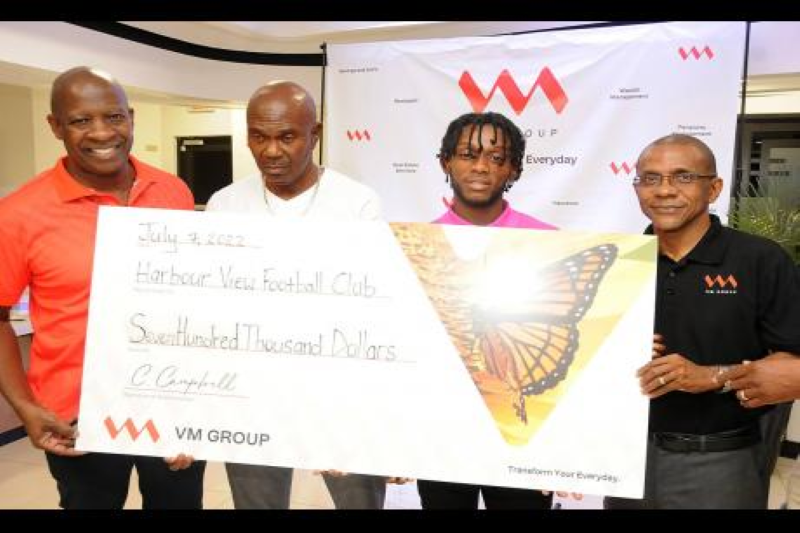 Premier League win brings surprise bonus
THE VICTORIA Mutual (VM) Group has made a further investment in the development of the Harbour View Football Club (HBFC) with the donation of $700,000 to the team as an added reward for its winning performance in the 2022 Jamaica Premier League (JPL).
VM sponsored HBFC in this year's staging of the JPL and the team stormed to victory in the final match on Sunday, July 3, becoming league champions.
The presentation was made to the club at a celebratory event at the VM Group offices at Half-Way Tree Road on Thursday.
VM Group President and CEO Courtney Campbell was on hand to congratulate the team and explained that the VM contribution meant much more than just injecting financial capital into the league.
"We chose to become a sponsor because of our commitment to transforming lives," he said.
Headlines Delivered to Your Inbox
Sign up for The Gleaner's morning and evening newsletters.
"Through your involvement in this sport, you are feeding families, creating wealth and making provisions for your future and that of your families while helping to realise financial goals that you have set. Here at VM, we want to help you along that journey."
Included in the donation is a provision for each of the club's senior players to be gifted with the start-up of a VM pension account.
Chief Executive Officer of VM Pensions Management Limited Conroy Rose noted that the decision to add a pension component was driven by a personal experience, and encouraged the players to put measures in place to secure their financial score even after they have hung up their cleats.
LIFE AFTER FOOTBALL
"I had an encounter some time ago with a former national player who explained to me that he was broke because he neglected to put something aside so that when his football career was over, he would have had a pension. I know what footballers go through, and so despite the amount of money you make, ensure that you put aside a portion because when the football exploits are forgotten, you will need to sustain yourselves and families for that rainy day. The VM Group has decided to give you a start and we will be having further discussions to help you to keep your accounts active," said Rose.
As part of the overall club sponsorship package, a financial literacy seminar was conducted in March with the players and coaches, facilitated through the VM Financial Education to Empower (FETE) programme. The sessions are expected to be ongoing.
Head coach of the Harbour View Football Club, Ludlow Bernard, expressed his gratitude to the VM team.
"The support from the VM Group has been a tremendous help to the club throughout the Premier League season and the pension donation will give the players a good opportunity to begin taking steps to secure their financial future after they have retired from the sport. I encourage them to make the best use of what they have been given and I look forward to any other possibilities that may come from our involvement in this venture," he said.