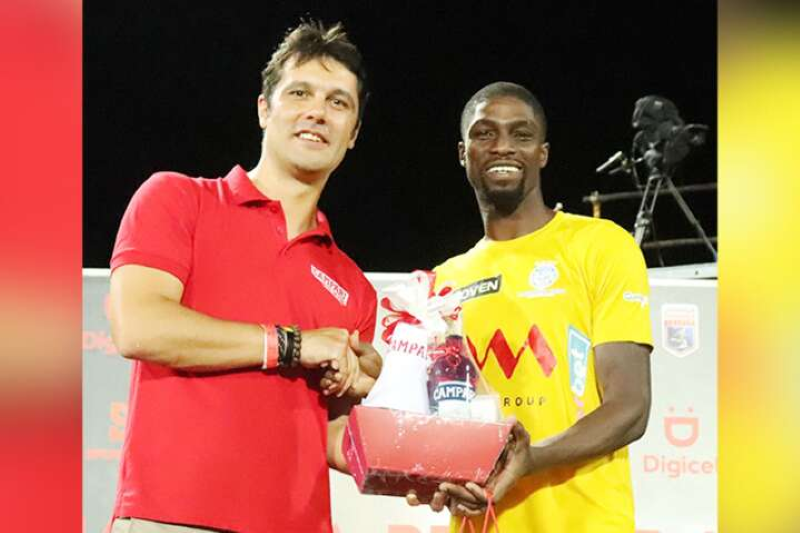 'I have won it all!'
Colorado Murray returned to the club where he began his football career in March with the determination to win the Jamaica Premier League (JPL).
Murray joined Harbour View as an 11-year-old and spent a decade at the club where he developed as a player, becoming both an attacking and defensive midfielder.
A few years after he left Excelsior High School, Murray went to Tivoli Gardens because, as he put it, "it was too competitive with the likes of Brian Brown, Jeremy Lynch, Jermaine Hue, Romario Campbell to compete against."
But after leaving school, Murray's intention was to take up one of the many scholarship offers that he had received, after playing Manning Cup for Excelsior.
"At that time, I wanted to go to school overseas, but I was rejected twice for a school visa and that helped to influence my decision to move. I was 21 years old, I had a son on the way and didn't want an office job. So, I had to move to get more playing time, so I could earn money to provide for my son who was on the way."
His stint at Tivoli Gardens, from where he hails, was short-lived as he played only five games before he was given an opportunity to play for Coventry United, a sister club of Coventry City in the United Kingdom, where he spent two seasons from 2016-2018.
He returned to the island a much better player, scoring 13 goals for Tivoli Gardens in the 2018-2019 season to pick up the Golden Boot award.
At the end of that season, much to the chagrin of some of his family members, but with the full support of his mother, Murray made the move from Tivoli Gardens to title contenders Waterhouse FC.
Two seasons at Waterhouse, one of which was interrupted by the novel coronavirus pandemic, saw him reach the final with the Drewsland-based club where he finished runners-up to Cavalier FC in 2021.
Murray struggled with injuries at the start of this season and didn't play any games for Waterhouse before returning to Harbour View in the March transfer window.
He revealed, after receiving the man-of-the-match award on Sunday, that he had achieved the two objectives that he had set out for himself on his return to the club.
"I feel very grateful. I had two objectives when I came to Harbour View, to win the title because I had never done it before, and also to qualify for the Concacaf Clubs Championships. So, I am very happy," he said.
Scoring in the final left the 27-year-old speechless. His goal came after only two minutes although it took a penalty shoot-out to decided the championship after the match ended 1-1.
"This is my first premier league title and to score in the final, I can't even explain how I am feeling. I am just very, very happy," he said.
He disclosed how he was able to help turn things around inside the dressing room, especially after Harbour View had made the play-offs on goal difference.
"I explained to the boys that Arnett Gardens had done it before, so we can do it and we have big name players and big occasion players, who will step up in big moments and we knew we could do it. The players were too shy, and not prepared for the atmosphere."
You May Like
Do you speak English? Work A Canada Job From Home In JamaicaWork From Home Jobs
"From we qualified, we were going for it and now we have done it," he continued.
Murray believes that nothing could top the joy he feels of winning the title with Harbour View.
"I feel like I have done something that I always wanted to do. Even if I won with Waterhouse, I wouldn't have felt this good."
His son Christian, who is six years old, left him a congratulatory voice note message after the game.
Harbour View's scorer Colorado Murray (left) in a tangle with Shaquille Dyer of Dunbeholden in their JPL final recently. (Photo: Naphtali Junior)
"He sent me a voice note saying congratulations daddy, I love [you]."
As far as Murray is concerned, victory in the premier league final came as a result of what takes place at the club both on and off the field.
"I think Harbour View is the best run club in the island. Ludlow Bernard puts in a lot to ensure the welfare of the players are taken care of. Hats off to him. It's not just football, everything has to be right. Everything has to be harmonious."
"He is happier than us and we wanted that for him, because he put in a lot of work behind closed door."
Preparation for the final was decisive and specific Murray said.
"We sat and watched clips over and over and trained with a purpose — it wasn't easy, but on the day, the better team won."
Most of his teammates went above and beyond to win the game on Sunday after a bug hit the club just before the final.
"Only the front three weren't feeling sick, but coach put everything to make everyone comfortable and willing to fight."
He also hailed the pivotal impact of former Tivoli Gardens Coach Omar Edwards on his career.
"Omar Edwards changed me from a midfielder to centre forward and made me challenge Peter Keyes and Jermaine Johnson. I was always a substitute, but Mr Edwards changed that."
Looking back at his career so far, Murray says he has won all that he can in top-flight football locally.
"I won the Jackie Bell (KO) twice at Tivoli, the Golden Boot and now the finals MVP and the title."
-Dwayne Richards