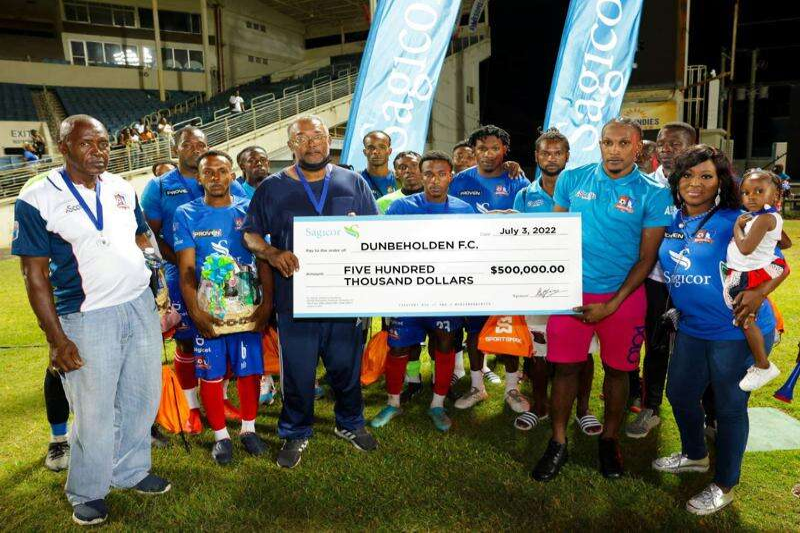 Dunbeholden pocket cash to assist with next season's title chase
DUNBEHOLDEN FC, 2021/2022 Jamaica Premier League (JPL) finalists, have received $500,000 from Sagicor Group Jamaica to aid their development for next season.
After landing a spot in the JPL final for the first time since earning promotion in the 2018-19 season, the St Catherine-based club was initially promised $500,000 if they took home the title. However, after delivering a hearty performance in Sunday's final, which they lost 5-6 on penalties to Harbour View FC, Dunbeholden's sponsor was moved to award them the cash incentive nonetheless.
Alysia White, vice-president, group marketing at Sagicor Group Jamaica, said her company was very proud of the team's performance.
"Although they didn't win the title the men showcased that they are here to stay, and so we absolutely had to award them for a job well done," White said. "This is their first final so this award will play a role in the team's plans for next season. We are proud to be associated with such a talented team. They fought to the end of what was an exciting match and with a great display of skill."
Paul Christie, Dunbeholden FC's team manager, said despite not winning the title the team is looking forward to making it all the way next season.
You May Like
Do you speak English? Work A Canada Job From Home In JamaicaWork From Home Jobs
"We said we were going to win the title and though we fell short, many people didn't believe we were going to get here. Now they believe in the product, they fear us, and they know we are here to stay," shared Christie. "As long as our structure remains, we will continue to improve — and next season will be ours."
Christie went on to thank Sagicor for its support throughout the season.
"Sagicor believed in us when no one else did. It is no secret that Dunbeholden struggles financially; we are relatively new and have the smallest squad in the league. Their support means they have faith in our product," shared Christie.
"More monetary support means our team will continue to develop and improve, so this is a big help. Our focus has ever changed — we just want to play football the right way," he continued.
In addition to the half-million dollars from Sagicor, Dunbeholden FC also received a cash prize of $1.75 million from the JPL for placing second in the league. Sagicor sponsored the JPL to the tune of $6 million this year.