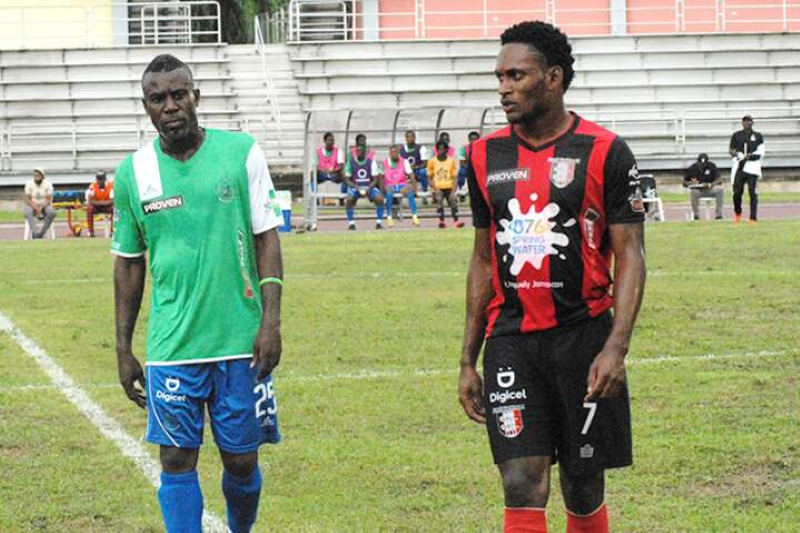 Coach Ambusley enters the fray to help MBU
CATHERINE HALL, St James — Dwayne Ambusley swapped his sweat pants and polo shirt, his uniform as assistant coach for Montego Bay United (MBU), for the number 25 jersey and shorts as he played a productive 90 minutes in Sunday's Jamaica Premier League (JPL).
Seemingly boosted by the 41-year-old's leadership and influence in the team's brittle midfield, MBU had one of their best games of the season, coming from behind to earn a 2-2 result against Arnett Gardens at the Montego Bay Sports Complex.
Ambusley, who had earned a national invitation in his late 30s from former national Coach Theodore Whitmore, has not fully come out of retirement, he told the Jamaica Observer, as he lied flat on the field after the game, receiving treatment from the team's physical trainer.
He said he had answered the call from Coach Leecroft Lettman and the players after they lost a number of players through injury.
"I had just a week of preparation," he said.
"We have an injury crisis and no one to fill the role and the guys asked me to come in and fill the role."
The game being played on Mother's Day had a special meaning to him, he said as he dedicated his performance to his late grandmother Ruby Kerr.
"Words can't even explain," he told the Observer when asked his reaction to playing the full game.
"This one on Mother's Day, I have to dedicate it to my grandmother, always 'saying do your best', she called me Steve."
It might be asking too much for him to turn out for Wednesday's game against Cavalier FC at Wespow Park. Clearly feeling the effects of the exertions against Arnett Gardens, he said: "No, no, not for Wednesday, but I will be available Sunday if the coach calls on me."
—Paul A Reid