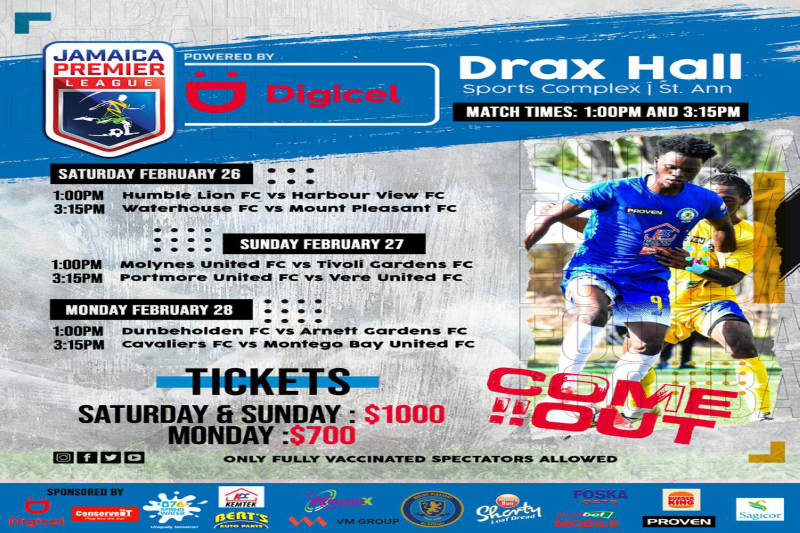 Fans Are Welcomed Back In The Jamaica Premier League Stands
Press Release
Fans Are Welcomed Back In The Jamaica Premier League Stands
February 24, 2022, Kingston Jamaica. The Government of Jamaica recently granted approval for spectators for the Jamaica Premier League's (JPL) 2021-2022 season. On Saturday, February 26, 2022, the first spectators will be welcomed at the Drax Hall Sport Complex in St. Ann. Since the start of measures to combat the spread of COVID-19 in Jamaica, these will be the first matches of the Jamaica Premier League with spectators.
The Professional Football Jamaica Limited, PFJL, will be using the same ticketing platform as other sporting events so far in Jamaica, that has fully-vaccinated spectators register to purchase tickets. Spectators are to register at http://JamaicaPremierLeague.LocalGovJamaica.gov.jm.
After thirty-six [36] games in six [6] weekends the Jamaica Premier League has seen some exciting matches including some upsets, and fans have a lot to look forward to at the venues. This week's match-up see:
Humble Lion FC vs Harbour View FC
Waterhouse FC vs Mount Pleasant FA
Molynes United FC vs Tivoli Gardens FC
Portmore United FC vs Vere United FC
Dunbeholden FC vs Arnett Gardens FC
Cavalier SC vs Montego Bay United FC
The Dunbeholden - Arnett Gardens game will see two of the season's top scorers so far, joint leading goal-scorer, Atapharoy Bygrave of Dunbeholden, and Renaldo Cephas of Arnett Gardens face each other.
St. Ann team Mount Pleasant, now in first place and with league's leading goal-scorer on 5 goals, Daniel Green, faces last-season's beaten finalist Waterhouse FC with another top-scorer Andre Fletcher on Saturday, February 26, before their home crowd. Montego Bay United returns to the top flight for the first time since the 2018-2019 season, and take on current champion Cavalier FC this weekend.
Details on ticket purchases are below.
The 2020-2021 season was played entirely without spectators, however LIVE and Delayed TV Broadcast of the matches was across the Caribbean, Tri-State Area in New York, Toronto, Canada as well as Jamaica. The new-broadcast model continued to improve with significant coverage as this year almost all games are live free-to-air on CVM television with one primetime delayed match each Monday at 9:00pm, with all matches live on SportsMax and SportsMax 2.
Additional Information on the Ticketing Steps.
Step 1: Visit http://JamaicaPremierLeague.LocalGovJamaica.gov.jm
Step 2: Enter email address or phone number to receive one-time password (OTP)
Step 3: Enter one-time password (OTP) to access platform
Step 4: Enter information required
Upload front and back of vaccination card as image files- jpg, etc.
If using digital card, enter in both front and back fields
Step 5: Submit (Write/Save the unique ID assigned. You will receive a notification once verified.)
Step 6: Once vaccination verification is received, re-enter platform and select 'Buy ticket'
Step 7: Enter relevant payment information
Step 8: Get your ticket to the Jamaica Premier League
Step 9: At the venue, show print copy of ticket or ticket on the phone.
JPLticketing@gmail.com for questions and challenges.
WhatsApp: 876-431-7435 to register for alerts and more information
--End--