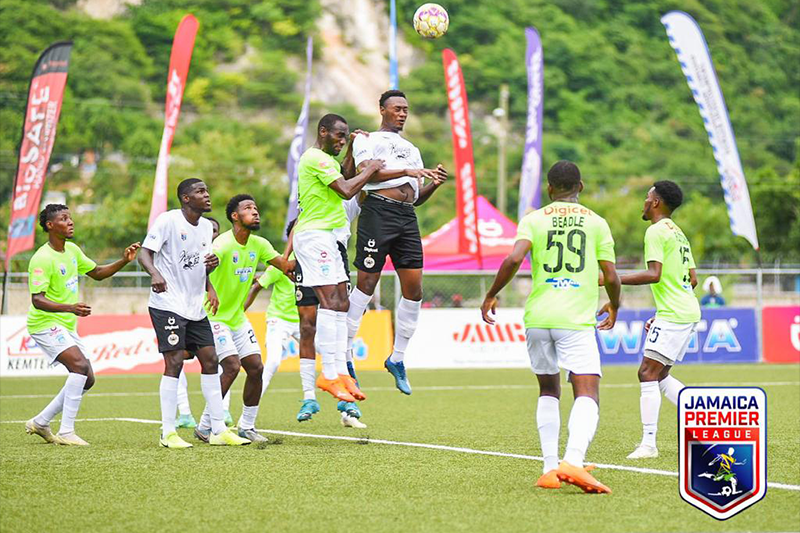 CAVALIER CROWNED JAMAICA PREMIER LEAGUE CHAMPIONS
JAMAICA PREMIER LEAGUE
KINGSTON, JAMAICA
Saturday, October 2, 2021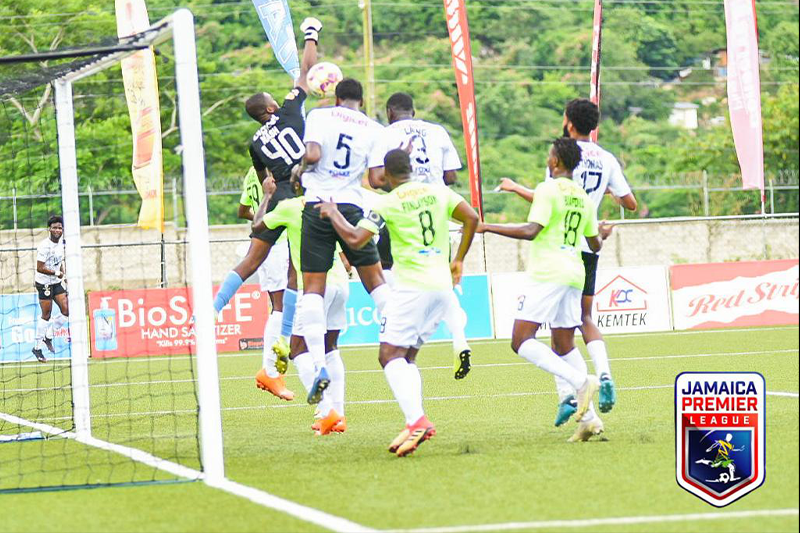 Cavalier FC were crown champions of the Jamaica Premier League after defeating 10-men Waterhouse FC 5-4 in the sudden death penalty and ended a 40-year drought in early rainy then fairly dark conditions.

The game ended 1-1 in dramatic normal time and then teams could not be separated in the 30 minutes of extra time.

Towering defender Jamoy Topey gave Cavalier the lead in the 17th minute but Damion Binns pulled Waterhouse leveled well into stoppage time in the 90+8 minute.

It was a courageous effort by Waterhouse after losing their captain Nicholy Finlayson in the 18thminute following two yellow cards, one for a foul and the other for dissent.

But they fought hard and took the fight to Cavalier playing a man short and forced the game into extra time.

But Binns, who scored the equalizing goal missed the opening spot-kick for Waterhouse in the shootout as Jeadine White saved well and Waterhouse were again playing catch-up.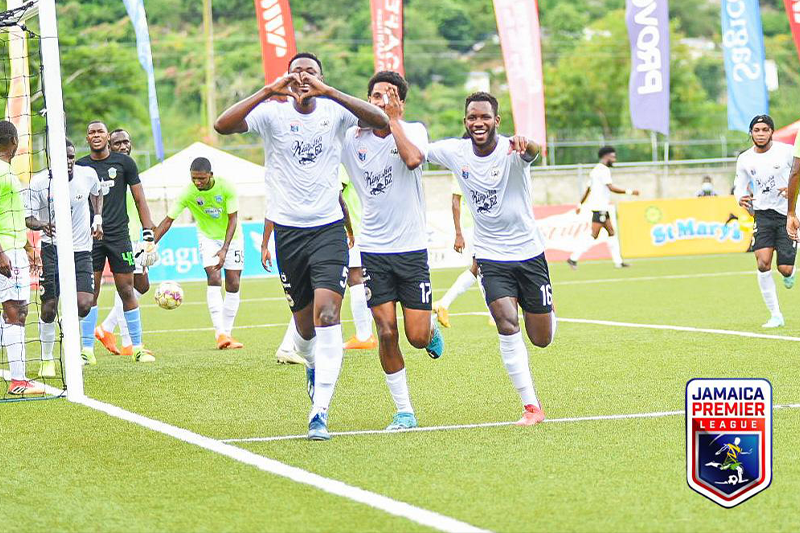 Shaquille Bradford, Shevon Stewart, Andre Leslie, and Ricardo Thomas all scored for Waterhouse but Giovanni Laing had the opportunity to win the game for Cavalier after perfect kicks by his teammates Richard King, Jamoy Topey, Melvin Doxilly, and Marlando Maxwell.

But Laing's effort was saved by goalkeeper Zemioy Nash and the game went into the sudden death penalty.

Waterhouse's Kymani Campbell kick was saved by White and Jamar Purcell made no mistake going high into the roof and ran off into the sunset as Cavalier celebrated wildly.

Formed in 1962, Cavalier's only success came under the legendary founder and coach Leighton Duncan in 1981 when they were known as the "Duncan Destroyers" and was a perennial force to be reckoned with and won the old Division One title in 1965, 1966, and 1971.

Following the death of Duncan, the club that played host to some of Jamaica's legendary footballers, went into a slump and after a 17-year hiatus made a return to the premier league in 2012 but was relegated again in 2016.

Cavalier, has taken on a different persona of youth development under head coach Rudolph Speid and are now champions for the second time in their history.

At the start of the season, Speid noted that winning titles, though important, is a bonus in the larger scheme of things and certainly this title was not expected by many especially when 20 of his 30-member squad are 20 years and younger.

But they showed maturity beyond their years to be crowned the best team in Jamaica and now onto the Caribbean Club Championships.

Waterhouse, who won the title twice in 1998 and 2006, has contested the last three finals and has ended second best for the third consecutive final.

But they played their part in a wonderful spectacle of a final and a fitting end to this unusual truncated season because of the Covid-19 pandemic.

Fittingly, Cavalier was presented with their winning medals by Kamal Powell, J Wray, and Nephew's marketing manager on their brand Kingston 62 who are assigned sponsors of Cavalier.

Reshima Kelly-Williams, brand marketing manager at Digicel, Jamaica, and Chris Williams, chairman of the Professional Football Jamaica Limited presented the winning trophy to the ecstatic Cavalier team.

Man-of-the-Match: Jeadine White (Cavalier)

Teams
Waterhouse: 40-Zemioy Nash, 24-Elvis Wilson, 16-Kymani Campbell, 59-Rohan Beadle (13-Ricardo Thomas 50th), 08-Nicholy Finlayson, 21-Damion Binns, 26-Ramone Howell, 18-Shaquille Bradford, 15-Andre Fletcher (22-Colorado Murray 75th 109th), 27-Andre Leslie), 20-Denardo Thomas (25-Duvaughn Dunkley 109th), 37-Rafeik Thomas (55-Shevon Stewart 67th).
Subs not used: 01-Akeem Chambers, 04-Roshawn Amos, 65-Altimon Gordon, 35-Roshane Sharpe.
Coach: Marcel Gayle
Booked: Damion Binns 9th, Nicholy Finlayson (two yellows 18th), Elvis Wilson 89th, Shaquille Bradford 90+2, Ricardo Thomas 90+2

Cavalier: 31-Jeadine White, 03-Jeovanni Laing, 04-Richard King, 05-Jamoy Topey, 06-Nickache Murray, 15-Kyle Ming, 16-Melvin Doxilly, 12-Gadial Irving (18-Jamar Purcell 85th), 10-Dwayne Atkinson (21-Christopher Ainsworth 90+2), 17-Shaniel Thomas (22-Collin Anderson 86th), 07-Ronaldo Webster (24-Kamoy Simpson 79th).
Subs not used: 30-Ricardo Watson, 28-Giovanni Minto, 09-Courtney Allen, 08-Marlando Maxwell, 27-Jerome McLeary.
Coach: Rudolph Speid
Booked: Melvin Doxilly 38th, Gadial Irving 52nd, Dwayne Atkinson 56th, Collin Anderson 104th, Kyle Ming 121st.

Referee: Oshane Nation
Assistant Referee 1: Jassett Kerr-Wilson
Assistant Referee 2: Stephanie-Dale Yee Singh
Fourth Official: Daneon Parchment
Match Commissioner: Anthony Gibbs
---
For more information contact JPL @ jplcomms@gmail.com