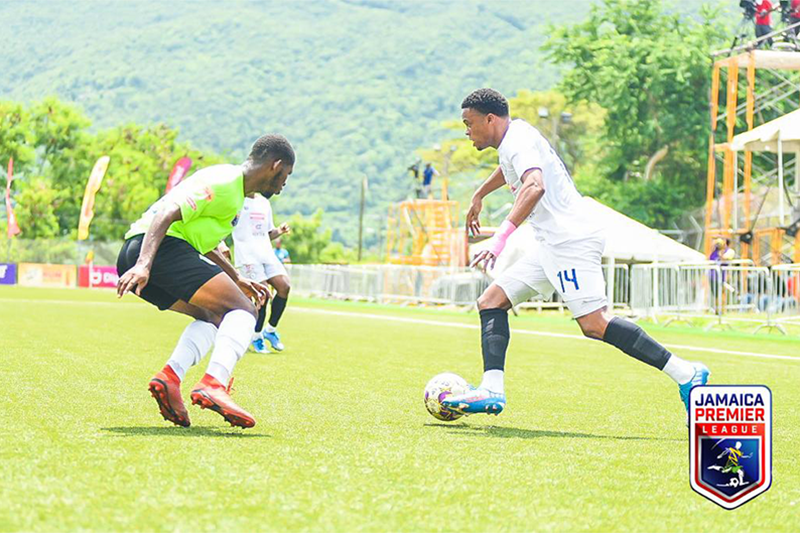 WATERHOUSE ADVANCE TO JAMAICA PREMIER LEAGUE FINALS
JAMAICA PREMIER LEAGUE
KINGSTON, JAMAICA
Wednesday, September 29, 2021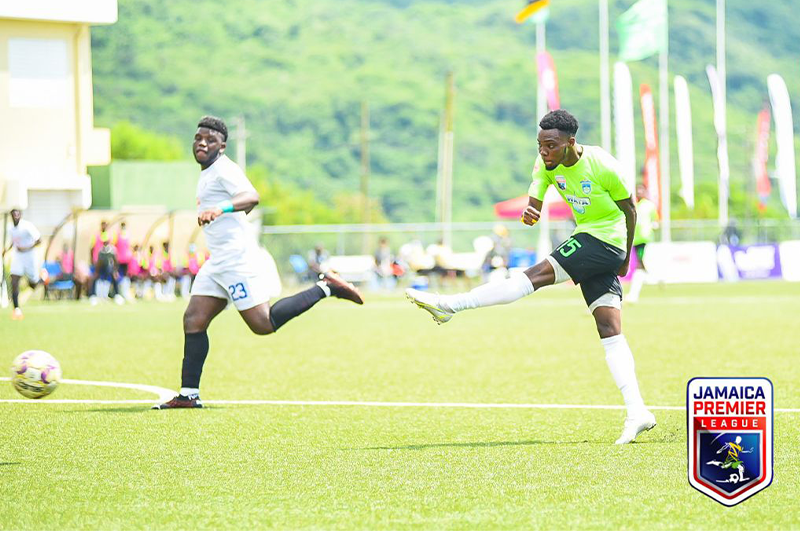 Waterhouse Fc marched into their third consecutive Jamaica Premier League final after battling to a 1-1 draw with Mount Pleasant but won 2-1 on aggregate in their semi-final match at the UWI-JFF Captain Horace Burrell Centre of Excellence.

Waterhouse started the day with a one-goal cushion from last Saturday's first leg action but had to fight hard to starve off a Mount Pleasant team that came our blazing from all cylinders.

Inform Jourdaine Fletcher gave Mount Pleasant the perfect start firing home a freekick in the 6thminute with his sixth goal of the season.

Fletcher now sits atop of the goalscoring chart along with Oquassa Chong of Harbour View and Shaquille Bradford of Waterhouse all on six goals.

While both Fletcher and Chong are out of the competition and cannot improve their tally, Bradford has one more chance in the final to win the Golden Boots race.

But Waterhouse fought back and veteran Rafeik Thomas found the equalizer on the day in the 45+3 minutes but more importantly, restored their one-goal advantage which they held to the end.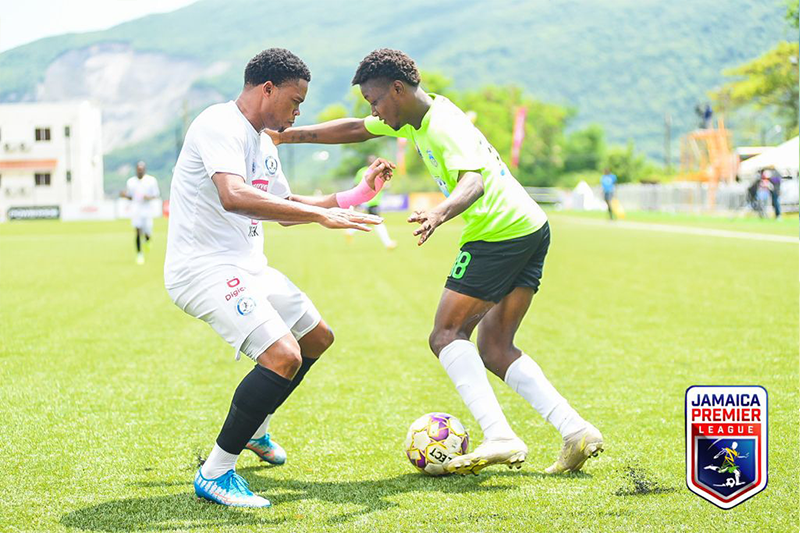 It was an exciting encounter between two very good teams and despite Mount Pleasant dominating possession with 52 percent, it was Waterhouse that created the most chances and should have won by a wider margin.

But with the score at 1-1, Daniel Green got a glorious chance to take the lead but his effort was blocked by goalkeeper Zemioy Nash.

Moments later Waterhouse's Shaquille Bradford saw his diving header at the near post going wide from close range. The impressive Radford again came close but his weak shot was goggled up by goalkeeper Shaven Paul.

Waterhouse continued their hunt for that second goal on the day and Damion Binns left-footer dipped late and hit the top of the crossbar.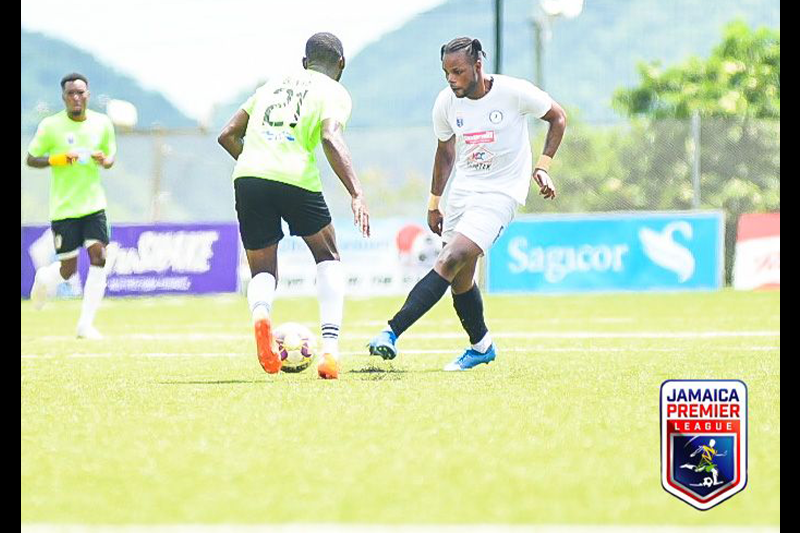 Substitute Roshane Sharpe who replaced goalscorer Thomas in the 85th minute, also came close after his shot was blocked by the goalkeeper.

Waterhouse which lost the last two finals to Portmore United in 2017-18 and 2018-19, has shown tremendous consistency and having reached another final, also booked their spot in the CONCACAF Club Championship.

It was a well-deserved win and Waterhouse's assistant coach Chris Paul said it was a tremendous feeling seeing the guys get the job done.

"From day one we have been raining for this and this is just one step closer to where we want to go and we got this victory and we can get ready for the next step," said Paul.

The final is set for Saturday and Paul noted it onto the recovery process with just a few days in between the semi-final and the final.

"We are going to make sure the guys eat properly, bring in the masseuse to get all that we need, and get the kinks out then on Friday we come back and go through the game plan for Saturday," he added.

Meanwhile, Mount Pleasant's coach Wally Downes said it was a good season for his team.

"To get as far as we did it was a great effort by everybody at the club," said the Englishman.

"I am so proud of everyone at the club who made the effort to get us here every time. We are a 'country club' and we have to get here every time and it has been a massive effort by everybody at the club," Downes reiterated.

Man-of-the-Match: Nicholy Finlayson (Waterhouse FC)

Teams
Waterhouse: 40-Zemioy Nash, 24-Elvis Wilson, 16-Kymani Campbell, 59-Rohan Beadle, 08-Nicholy Finlayson, 21-Damion Binns, 26-Ramone Howell, 18-Shaquille Bradford (13-Ricardo Thomas 90th), 15-Andre Fletcher, 20-Denardo Thomas (55-Shevon Stewart 62nd), 37-Rafeik Thomas (35-Roshane Sharpe 85th).
Subs not used: 01-Akeem Chambers, 28-Shawn Dewar, 25-Duvaughn Dunkley, 27-Andre Leslie, 65-Altimon Gordon, 19-Jahvan James.
Coach: Marcel Gayle
Booked: Nicholy Finlayson 33rd, Elvis Wilson 79th

Mount Pleasant: 01-Shaven Paul, 04-Alwayne Harvey, 06-Liston James, 03-Ladale Richie (29-Tajay Anderson 46th), 14-Sue-Lae McCalla, 23-Prince Christie (05-Leonard Rankine 62nd), 15-Kevaughn Isaacs, 09-Daniel Green (10-Kemar Beckford 72nd), 08-Jourdaine Fletcher, 07-Devonte Campbell, 11-Kesslon Hall.
Subs not used: 40-David Swaby, 25-Sherman Gouldbourne, 21-Kevin Layne, 32-Gary Mills, 24-Osani Ricketts.
Coach: Walter Downes
Booked: Sue-Lae McCalla 28th

Referee: Steffon Dewar
Assistant Referee 1: Melvin Reid
Assistant Referee 2: Princess Brown
Fourth Official: Neressa Goldson
Match Commissioner: Fitzroy Reid
---
For more information contact JPL @ jplcomms@gmail.com