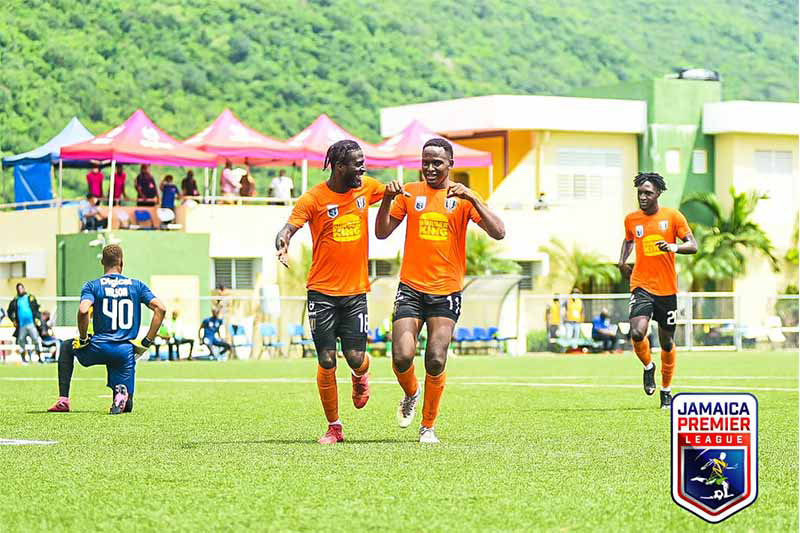 Tivoli Gardens FC Cruz Into The JPL Semi-Finals
JAMAICA PREMIER LEAGUE
KINGSTON, JAMAICA
Wednesday, September 22, 2021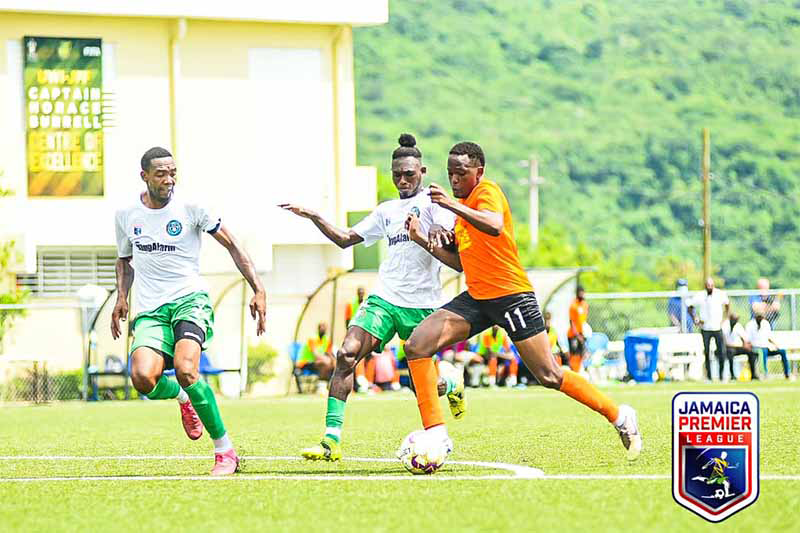 Tivoli Gardens marched into the semi-final of the Jamaica Premier League with a convincing 4-0 second-leg win over Vere United at the UWI-JFF Captain Horace Burrell Centre of Excellence.

Goals by Stephen Barnett (18th), Trayvon Reid (62nd) plus substitutes Horatio Morgan (86th) and Jermaine Johnson (90+5) propelled Tivoli Gardens to their 4-0 aggregate win after the first leg drew 0-0 last week.

Tivoli Gardens will now play Cavalier FC on Saturday after dispatching the Clarendon-based Vere United in a ruthless fashion.

Vere United was first on the attack and Ricardo Dennis was on the end of the freekick but placed his effort wide in the 12th minute.

But the orange and black-clad Tivoli Gardens came into their own and took control courtesy of Stephen Barnett who slotted home from a Devroy Grey cross in the 18th minute.

Then Ricardo Messam missed a clear header for Vere on the stroke of halftime, nodding at the feet of the goalkeeper Davin Watkins when he should have done better. Then Anjay Gayle hit the bar.
But once again, Tivoli Gardens made them pay as Trayvon Reid ran from near the half-line and slotted home in the 62nd minute with a brilliant solo effort.

Substitute Horatio Morgan was not to be outdone and he clinically guided home Romaine Bowers' corner kick in the 86th minute for his fourth goal of the season.
Veteran Jermaine Johnson put the icing on the cake in stoppage time from the penalty spot, calmly slotting home in the 90+5 minute.

Winning coach Phillip Williams of Tivoli Gardens was all smiles. "I thought that we did well in the first leg and today the difference is we converted the chances that we created".

"Today was about decision making and the runs that were made and we got everything right. Our conversion rate was high today," he pointed out.

Meanwhile a sombre-looking Donovan Duckie, the Vere head coach thought the team played well according to the game plan but Tivoli Gardens were just clinical.

"There are a lot of positives to take away for the season and I was pleased with our game plan. We matched them and we were very aggressive against them but after the first goal we were broken seeing that it was a questionable decision from a handball," said Duckie.

"Kudos to Tivoli they did well and the difference between both teams is that they were very clinical," he noted.

Man-of-the-match: Stephen Barnett (Tivoli Gardens)

Teams
Tivoli Gardens: 33-Davin Watkins, 05-Barrington Pryce, 32-Odean Pennycooke, 08-Shavar Campbell, 14-Kemar Flemmings, 04-Dasha Satchwell, 18-Devroy Grey (10-Jermaine Johnson 80th), 19-Rushane Thompson (06-Horatio Morgan 66th), 23-Trevaune McKain (27-Tkiven Garnett 82nd), 17-Stephen Barnett (20-Anthony Nelson. 52nd), 11-Trayvon Reid (38-Romaine Bowers 82nd).
Subs not used: 01-Nicholas Clarke, 03-Daveon Garrison, 29-Earon Elliott, 09-Rodico Wellington.
Coach: Philip Williams
Booked: Dasha Satchwell 45th

Vere United: 30-Kadeem Davis (40-Shavon Wilson 43rd), 13-Anjay Gayle, 03-Kenroy Lumthen, 05-Alton Lewis (12-Tavis Grant 65th), 14-Javier Brown (45-Courton Wright 65th), 17-Ricardo Dennis, 18-Lamard Neil, 11-Romone Plummer, 20-Trevance Salamon, 24-Tyrese Harrison, 09-Ricardo Messam ( 16-Gregory Cousins 70th).
Subs not used: 21-Tyrick Harrison, 22-Dunsting Ghen, 29-Rasheed Thomas, 23-Javel Ellis, 25-Shamar O'Connor.
Coach: Donovan Duckie
Booked: Romone Plummer 5th, Javier Brown 20th

Referee: Daneon Parchment
Assistant Referee 1: Nicholas Anderson
Assistant Referee 2: Stephanie-Dale Yee Singh
Fourth Official: Odette Hamilton
Match Commissioner: Lascelles Logan
---
For more information contact JPL @ jplcomms@gmail.com