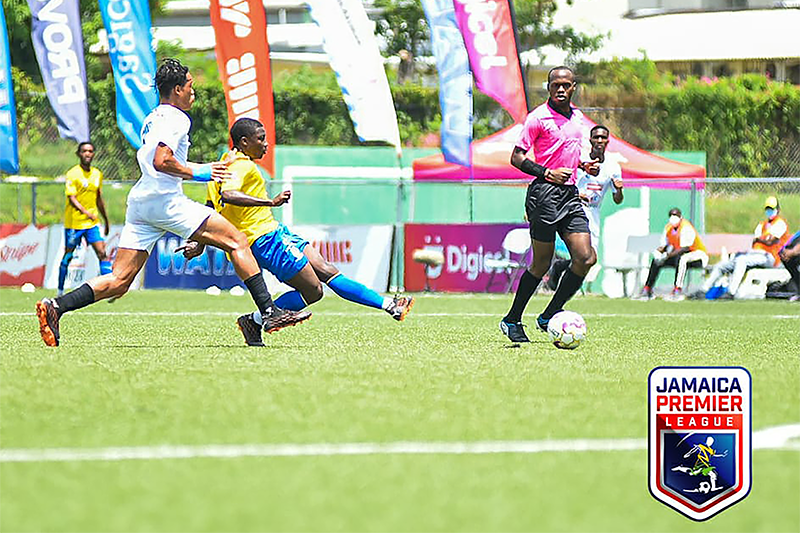 Mount Pleasant Takes Early Lead For Semi-Finals
JAMAICA PREMIER LEAGUE
KINGSTON, JAMAICA
Saturday, September 18, 2021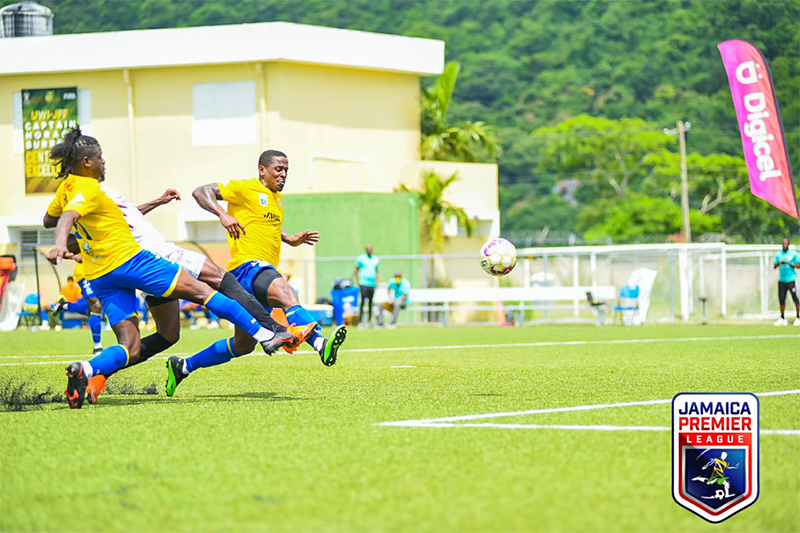 Mount Pleasant took a gigantic step towards the semi-finals of the Jamaica Premier League with a 3-1 whipping of Harbour View in their quarterfinal playoff match at the UWI-JFF Captain Horace Burrell Centre of Excellence.

With the second leg set for next week, Mount Pleasant are in the driver's seat with a two-goal cushion and are heavily favoured to advance to the semi-final.

It will be a mammoth task for the Stars of the East to really overturn this deficit but Tyrese Williams' late goal in stoppage time certainly will give Harbour View some hope.

The talented 17-year-old Devonte Campbell gave Mount Pleasant the lead, firing home in the 30th minute beating goalkeeper Tafari Chambers at his near post after dribbling from just inside the half.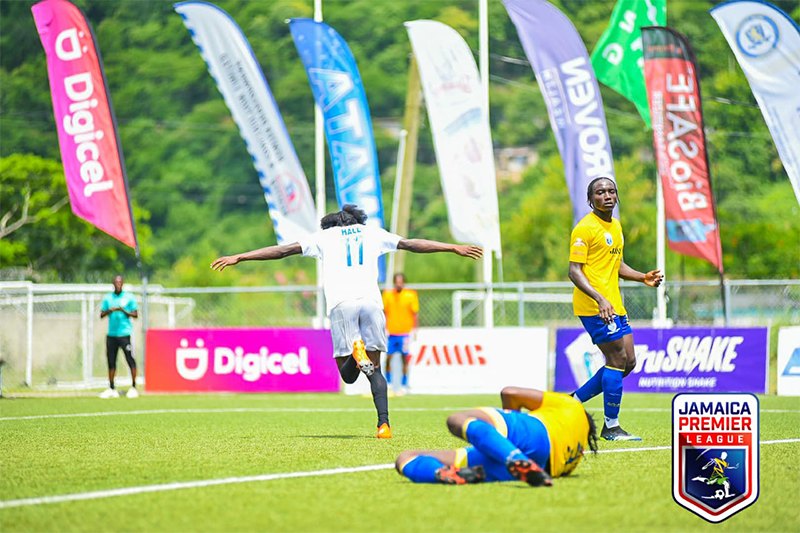 Kesslon Hall doubled their advantage, latching on to a ball over the top by Alwayne Harvey in the 54th minute and slotted home.

Jourdaine Fletchers side-footed home in the minute 75 and basically put the two-legged tie out of the reach of Harbour View.

But substitute Tyrese Williams was on hand to nod home after wingback Oshane Staple cannoned off the crossbar into his path in the 90+4.

But it was Harbour View who came out firing in the early stages with the talented Cristojaye Daley twice coming close to scoring. He combined well with Oquassa Chong but fired straight at goalkeeper Akel Clarke and minutes later he saw his powerful shot tipped over by Clarke again.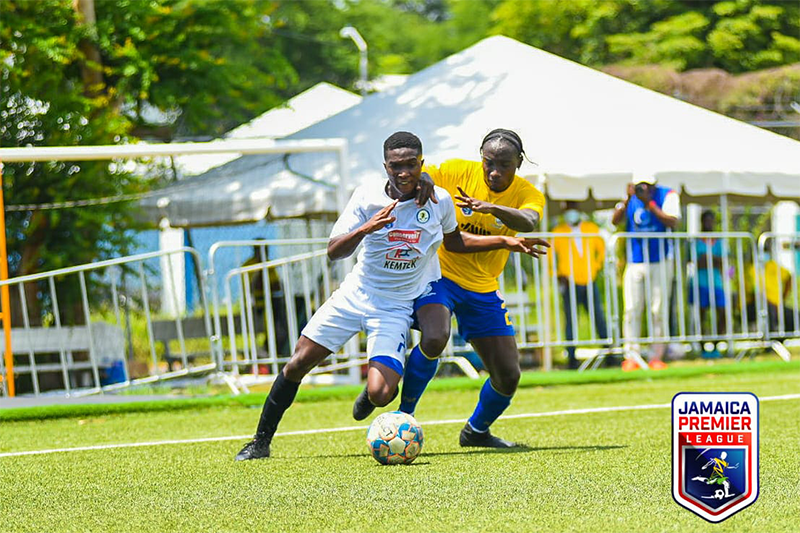 Veteran Lovel Palmer would have thought he equalized but his effort was cleared off the line in the 40th minute. Then, late on, Chong hit the upright.

In the end, it was a fairly comfortable win for Mount Pleasant but they would be a little disappointed in letting their three-goal cushion slip to two which really gave Harbour View a glimmer of hope.

With Harbour View's coach Ludlow Bernard shown a red card his assistant, Sean Fraser pointed out that all is not lost especially with their late goal.

"It's a big goal because now you are down two instead of three. You can score two goals in 10 minutes, anything can happen. It's a new ball game. We are happy that we didn't lose 3-0 to be honest," said Fraser.

"We lost our discipline tactically players weren't tracking back and that's the result. You are playing against a well-experienced team like Mount Pleasant and they capitalised on our errors," he added.

Winning coach Walter Downes of Britain was more than pleased with the result and will not be resting on their laurels for the return leg.

"It was a very good performance because we played a very good side. They were very spirited and they pressed us very hard in the first 15 minutes and I felt we were going to be in for a tougher game than I expected. But weathered that 15 minutes then we got our game going," said Downes.

"We want to start off with a clean sheet and keep that as long as we can and try to win the first half, get in, reorganized and go get them in the second half," he added.

"It will be a new game and no game is ever the same so we must make sure we are fully applied to the situation and get the result," he noted.

Man-of-the-Match: Devonte Campbell (Mount Pleasant)

Team
Harbour View: 01-Tafari Chambers 50, 16-Garth Stewart, 44-Lovel Palmer, 21-Odorland Harding, 29-Oshane Staple, 12-Casseam Priestly, 31-Gerald Neil (28-Shawn Daley 58th), 13-Cristojaye Daley (15-Tyrese Williams 76th), 08-Lennox Russell (03-Tarick Ximines 76th), 22-Oquassa Chong, 24-Ronaldo Robinson (30-Tevin Scott 53rd).
Subs not used: 40-Jermaine Thompson, 45-Renaldo Wellington, 23-Saqlain Waul, 27-Jamone Shepherd, 19-Akeem Mullings
Coach: Ludlow Bernard
Booked: None

Mount Pleasant: 56-Akel Clarke, 04-Alwayne Harvey, 06-Liston James, 03-Ladale Richie, 14-Sue-Lae McCalla (25-Sherman Gouldbourne 90+1), 21-Kevin Layne, 09-Daniel Green (24-Osani Ricketts 90th), 15-Kevaughn Isaacs, 08-Jourdaine Fletcher (32-Gary Mills 76th), 07-Devonte Campbell (10-Kemar Beckford 76th), 11-Kesslon Hall (05-Leonard Rankine 70th).
Subs not used: 01-Shaven Paul, 23-Prince Christie, 29-Tajay Anderson.
Coach: Walter Downes
Booked: None

Referee: Steffon Dewar
Assistant Referee 1: Rolonzo Bennett
Assistant Referee 2: Ricardo McKenzie
Fourth Official: Carvel Banton
Match Commissioner: Martyn Lyn
---
For more information contact JPL @ jplcomms@gmail.com