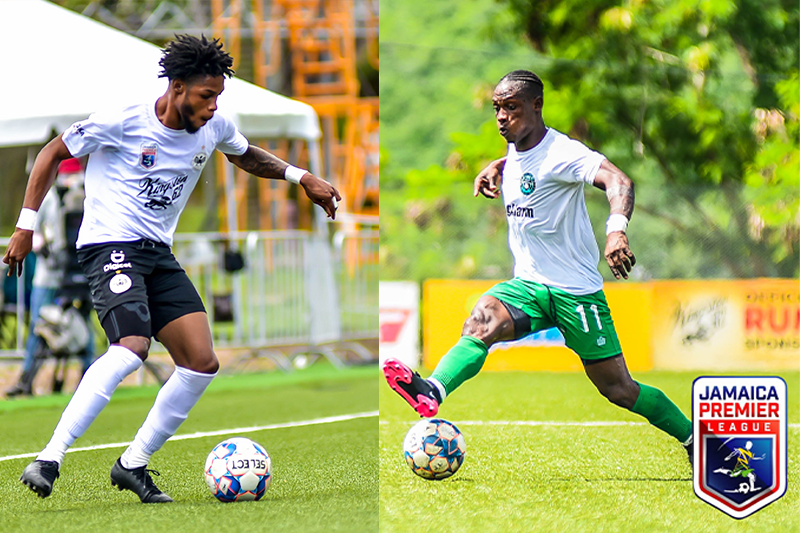 Cavalier Through To The Semi-Finals
JAMAICA PREMIER LEAGUE
KINGSTON, JAMAICA
Saturday, September 11, 2021
Defender Kyle Ming netted in the 84th minute and pushed Cavalier to a hard-fought 1-0 win over Vere United in their Jamaica Premier League game at the UWI-JFF Captain Horace Burrell Centre of Excellence.

Ming latched onto a beautiful defense-splitting pass from Melvin Doxilly of St Lucia and he fired past the advancing goalkeeper Kadeem Davis in goal.

It was a crucial win for Cavalier that saw them leapfrogged both Tivoli Gardens and Mount Pleasant into the second spot and earned an automatic semi-final playoff spot.

Cavalier with their fifth win of the season moved to 18 points, the same as Mount Pleasant but with a superior goal difference are second in the league behind Waterhouse on 19 points.

Clarendon-based Vere United, which suffered their fourth defeat of the season from 10 games, stayed in the fifth spot on 15 points.

This result meant that both Waterhouse and Cavalier will earn a bye into the semi-finals as the top two teams while Vere United will clash with fourth-placed Tivoli Gardens in the two-legged quarter-final playoff.

The other quarterfinal playoff will see third-placed Mount Pleasant will meet sixth-placed Harbour View also over two legs.

The winners of these two playoff series will top team Waterhouse and Cavalier in the semi-final round.

Winning coach Rudolph Speid of Cavalier was satisfied with his young team improving with every game.

"We were playing too conservative because we were aware of the counter but in the second half if you noticed Kyle Ming started pushing up a lot more, getting more aggressive with his runs and that was a plan for us and it paid off," Speid explained.

"Early in the season we were playing for players to have personal milestones but in the later, it's all teamwork now and we playing for the team now," he added.

Meanwhile losing coach Donovan Duckie of Vere United said there is nothing they could have done to prevent that goal as the pass was world-class.

"It was a brilliant pass. It's been a while since I haven't seen a pass break three lines and kudos to Cavalier. They would have advanced to the second spot and we are in the top six," said Duckie.

"We are looking forward to the first game in the quarterfinal and we are looking to return to full strength. Our short-term goals are there and it is a reality for us to compete for the title and we are in it to win it," Duckie pointed out.

Man-of-the-Match: Kyle Ming (Cavalier)

Teams
Vere United: 30-Kadeem Davis, 12-Tavis Grant, 13-Anjay Gayle, 25-Shamar O'Connor ((16-Gregory Cousins 61st), 03-Kenroy Lumthen, 05-Alton Lewis, 14-Javier Brown, 18-Lamard Neil (45-Courton Wright 61st), 11-Romone Plummer, 20-Trevance Salamon, 24-Tyrese Harrison.
Subs not used: 60-Michael Panton, 22-Dunsting Ghen, 29-Rasheed Thomas, 17-Ricardo Dennis, 23-Javel Ellis.
Coach: Donovan Duckie
Booked: None

Cavalier: 40-Ricardo Watson (31-Jeadine White 59th), 03-Jeovanni Laing, 04-Richard King, 05-Jamoy Topey (24-Kamoy Simpson 11th), 15-Kyle Ming, 16-Melvin Doxilly, 12-Gadial Irving, 08-Marlando Maxwell (18-Jamar Purcell 59th), 27-Jerome McLeary (09-Courtney Allen 59th), 10-Dwayne Atkinson, 17-Shaniel Thomas.
Subs not used: 14-Lamont Rochester, 28-Giovanni Minto, 22-Collin Anderson, 21-Christophe Ainsworth.
Coach: Rudolph Speid
Booked: None

Referee: Oshane Nation
Assistant Referee 1: Richard Washington
Assistant Referee 2: Melvin Reid
Fourth Official: Andre Farquharson
Match Commissioner: Fitzroy Reid
---
For more information contact JPL @ jplcomms@gmail.com