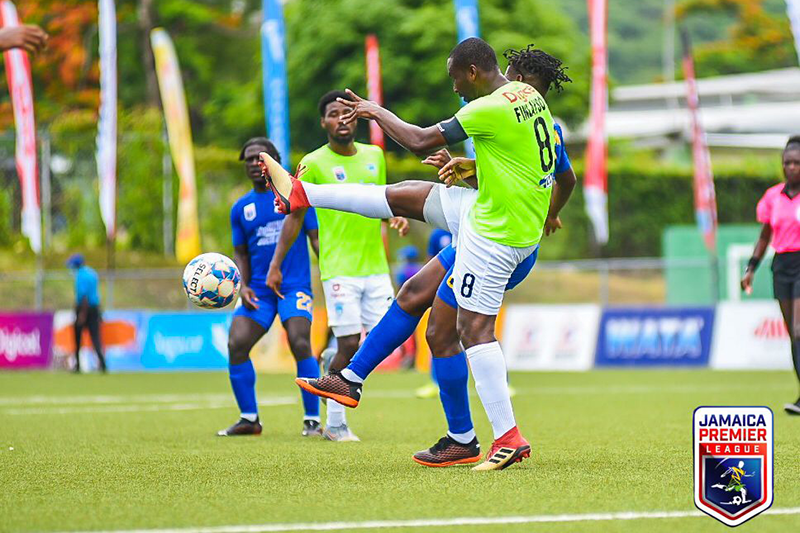 Waterhouse FC Secure Place In Playoffs
JAMAICA PREMIER LEAGUE
KINGSTON, JAMAICA
Friday, September 3, 2021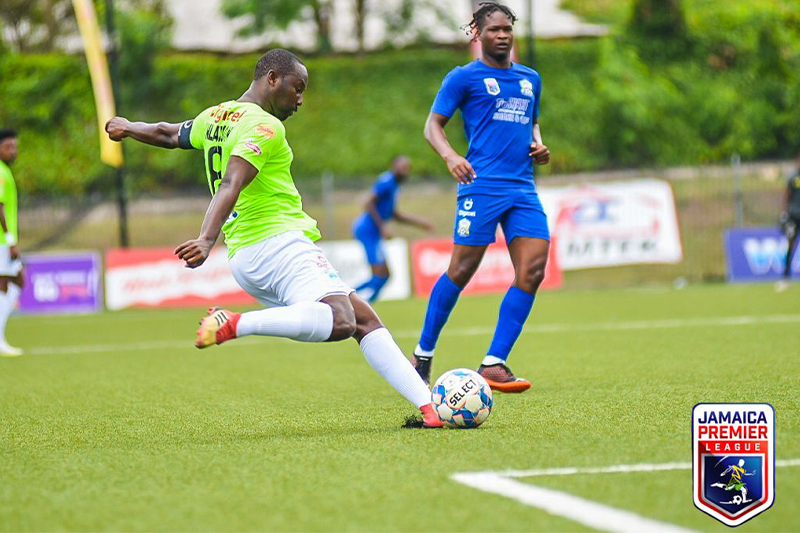 Waterhouse FC marched into the Jamaica Premier League championship playoffs with a commanding 4-1 whipping of Molynes United in the first of a triple-header at the UWI-JFF Captain Horace Burrell Centre of Excellence.

Waterhouse with their fourth win in nine games provisionally jumped to the top of the league with 16 points and with only one set of games left, are safely into the top six playoffs.

It was the first of the ninth round set of games and Waterhouse are showing that they are rounding into form at the right time.

The Marcel Gayle-coached Drewsland team turned in a clinical display and ruthlessly dispatched Molynes United who knocked out of the top six playoffs from last week.

Anthony Patrick-coached Molynes United remained second from bottom in 10th spot on six points from their nine games.

They will now be in round two involving the teams placed from 7-11 and play amongst themselves for final positions.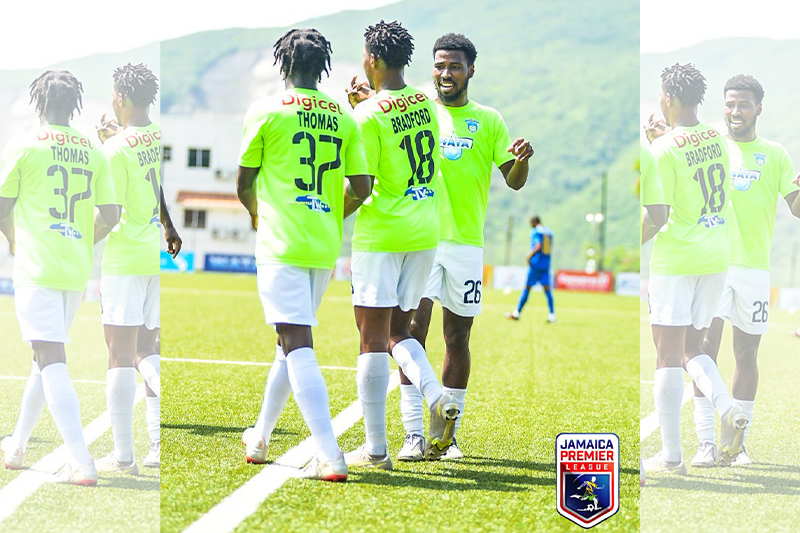 Waterhouse, who is bubbling with confidence, secured their win with early goals from impressive young defender Kymani Campbell in the 4th minute and another impressive youngster in Shaquille Bradford in minute 13.

Nicholas Nelson pulled one back for Molynes United in the 29th n minute from the penalty spot with his fifth goal of the season.

Veteran Damion Binns restored Waterhouse's two-goal cushion converting a 64th-minute penalty while Bradford returned for his second goal of the match slotting home from an Andre Leslie assist in the 72nd minute.

Bradford, the former Camperdown High Manning Cup captain has now scored four goals in the season.

Waterhouse will play Portmore United in their final game next week before the playoff in what will be a mammoth clash as they seek to secure a top-two spot that will take them straight into the semi-finals.

Man-of-the-Match: Rohan Beadle (Waterhouse)

Teams
Molynes United: 01-Roje Williams, 04-Ackeem Stewart, 22-Jevaughn Brown, 45-Malicka Cocking (17-Damion Thomas 46th), 18-Oneil Small (25-Orane Ferguson 61st), 06-Tyrique Sutherland, 15-Tyrese Wynter, 08-Tyrique Wilson, 36-Ricardo Phipps, 10-Nicholas Nelson (50-Rashwan Livingston 82nd), 07-Jermy Nelson (12-Akeem Brown 82nd).
Subs not used: 40-Leon Taylor, 16-Marvin Emmanuel.
Coach: Anthony Patrick
Booked: Malicka Cocking 45+1, Ricardo Phipps 63rd, Ackeem Stewart 88th.

Waterhouse: 40-Zemioy Nash, 24-Elvis Wilson, 16-Kymani Campbell, 59-Rohan Beadle (13-Ricardo Thomas 84th), 08-Nicholy Finlayson, 21-Damion Binns (25-Duvaughn Dunkley 84th), 26-Ramone Howell, 22-Colorado Murray, 18-Shaquille Bradford (27-Andre Leslie 73rd), 20-Denardo Thomas (65-Altimon Gordon 84th), 37-Rafeik Thomas (15-Andre Fletcher 62nd)
Subs not used: 01-Akeem Chambers, 10-Kenroy Howell, 28-Shawn Dewar, 35-Roshane Sharpe.
Coach: Marcel Gayle
Booked: Altimon Gordon 85th.

Referee: Odette Hamilton
Assistant Referee 1: Stephanie Dale Yee Singh
Assistant Referee 2: Kioney Denton
Fourth Official: Doyen Tummings
Match Commissioner: Lascelles Logan
---
For more information contact JPL @ jplcomms@gmail.com