Cavalier Playoff Dreams Stay Alive
JAMAICA PREMIER LEAGUE
KINGSTON, JAMAICA
Friday, September 3, 2021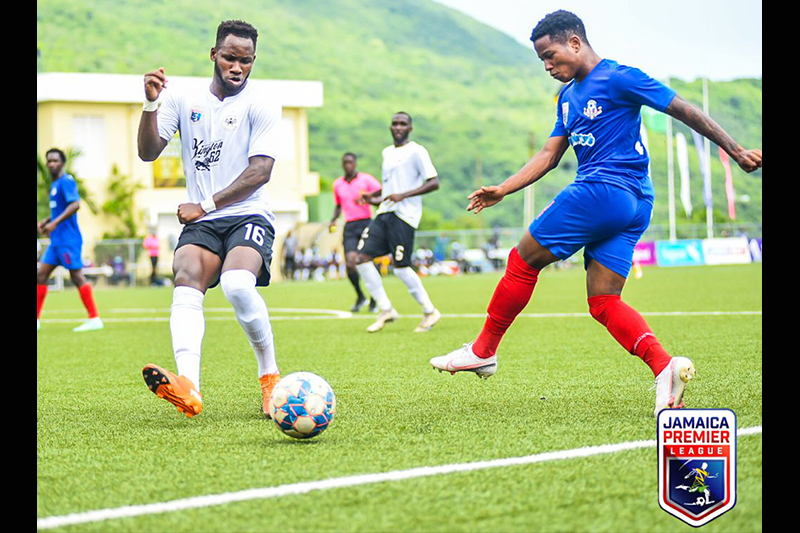 Cavalier FC reignited their chances of making the championship playoffs with a hard-fought 1-0 win over Portmore United in their Jamaica Premier League game at the UWI-JFF Captain Horace Burrell Centre of Excellence.

The impressive Ronaldo Webster scored the all-important goal squeezing in his shot at the near post in the 39th minute after combining well with Dwayne "Busy" Atkinson.

It was Webster's second goal of the season but he limped off in the 62nd minute apparently from the injury he sustained while scoring.

It was a massive win that propelled Cavalier from the seventh spot to provisional second spot on 15 points and with just one game remaining, they have put themselves in a very good position of making the playoffs.

Cavalier will end the preliminary round against Vere United in what will be a very tough encounter.

Meanwhile, it was a major setback for Portmore United who suffered their fourth loss of the season and slipped to fifth on 13 points.

This being just the second game of the 10th round, things could get even worse for Portmore United as they can drop out of the top six if both Tivoli Gardens and Dunbeholden secure wins on Sunday.

Tivoli Gardens will be in action against Humble Lion while Dunbeholden tackles Arnett Gardens.

It was a missed chance by Portmore United to really book their spot in the playoff. They started the day in the fourth position and a win would have taken them into the playoffs but instead, they will have to wait nervously heading into the final round.

Portmore, which was losing their third consecutive match, will play Waterhouse next week in what will be a season deciding match and what a huge match it will be.

Man-of-the-Match: Jeovanni Laing (Cavalier)

Teams
Cavalier: 31-Jeadine White, 03-Jeovanni Laing, 05-Jamoy Topey, 15-Kyle Ming, 06-Nickache Murray, 16-Melvin Doxilly, 12-Gadial Irving, 08-Marlando Maxwell (24-Kamoy Simpson 74th), 10-Dwayne Atkinson, 17-Shaniel Thomas (22-Collin Anderson 80th), 07-Ronaldo Webster (18-Jamar Purcell 62nd).
Subs not used: 30-Ricardo Watson, 04-Richard King, 27-Jerome McLeary, 14-Lamont Rochester, 09-Courtney Allen, 28-Giovanni Minto.
Coach: Rudolph Speid
Booked: Jeovanni Laing 24th, Kyle Ming 30th, Shaniel Thomas 56th

Portmore United: 13-Kemar Foster, 14-Alvinus Myers, 04-Damano Solomon, 23-Emelio Rousseau, 29-Tajay Brown, 16-Demar Rose, 06-Chavany Willis, 08-Ricardo Morris, 12-Javick McFarlane, 34-Omar Reid, 09-Demarrio Phillips.
Subs not used: 01-Eric Edwards, 32-Prince-Daniel Smith, 03-Noel Walker, 18-Romaine Brackenridge, 19-Nicholas McArthur, 21-Jevoun Bascoe, 22-Zain Hylton, 28-Steven Young.
Coach: Garnet Lawrence
Booked: Demar Rose 17th, Demarrio Phillips 28th, Omar Reid 55th, Emelio Rousseau 90+3 and 90+5.

Referee: Christopher Mason
Assistant Referee 1: Rolanzo Bennett
Assistant Referee 2: Shavarra Dennis
Fourth Official: Andre Farquharson
Match Commissioner: Martin Lyn
---
For more information contact JPL @ jplcomms@gmail.com