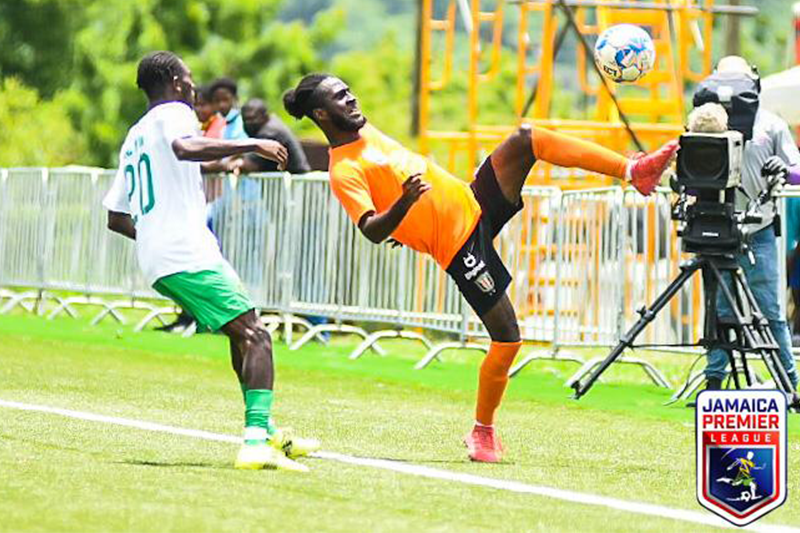 Tivoli Garden FC Move Into Playoff
JAMAICA PREMIER LEAGUE
KINGSTON, JAMAICA
Saturday, August 28, 2021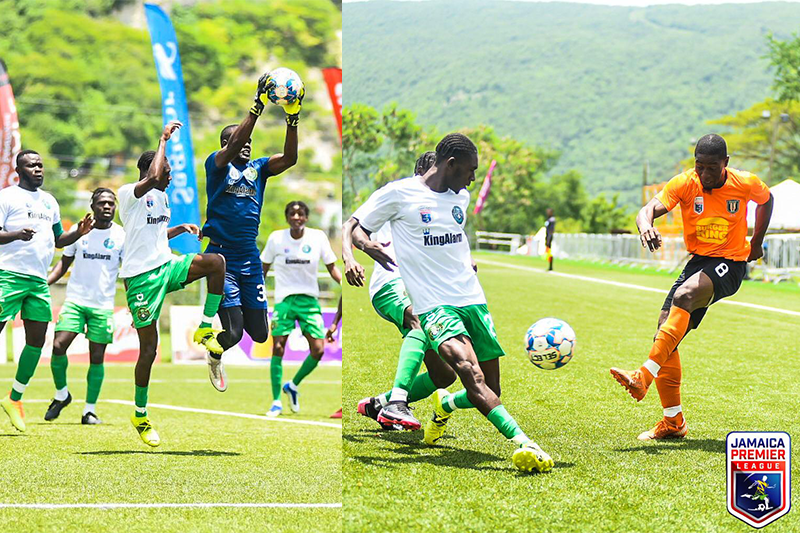 Tivoli Garden FC moved into a playoff spot with a hard-fought 1-0 win over leaders Vere United in the first of a doubleheader at the UWI-JFF Captain Horace Burrell Centre of Excellence.

Rushane Thompson struck early in the 7th minute and it turned out to be the winner as Tivoli Gardens leapfrogged four teams into the fourth spot on 13 points from eight games.

The orange and black-clad outfit from West Kingston is level on points with third-place Portmore United.

Clarendon-based Vere United, despite suffering their second loss of the season, remained on top of the league with 14 points, the same as Mount Pleasant but just ahead by goal difference.

With Tivoli's ascension into the top-six playoff spot, Harbour View has been pushed down to seventh on 12 points and having played a game more, they are in real trouble in making the playoff.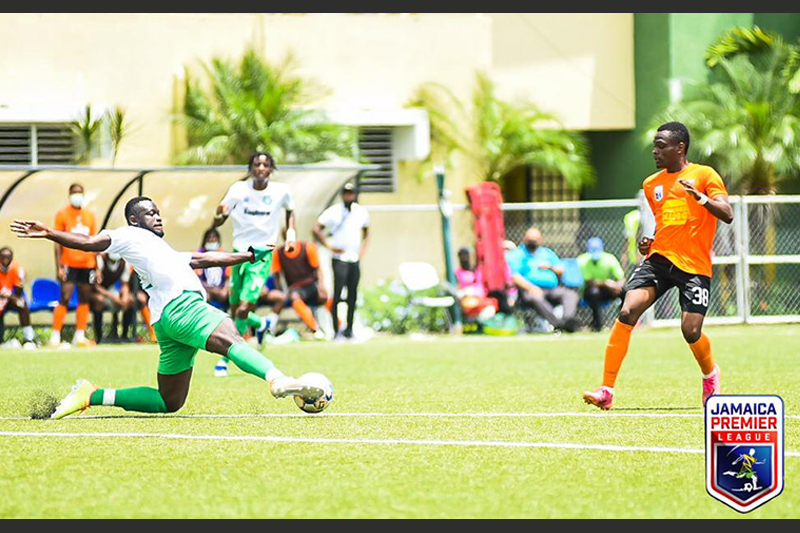 Things can get worse as eighth-placed Waterhouse on 10 points is set to play ninth-placed Arnett Gardens on seven points in the feature encounter on Saturday.

A win for Waterhouse would push them to 13 points relegated not only Harbour View but Cavalier as well out of the playoff position.

So basically with two games remaining in the ninth round, things are heating up as team jockey for playoff positions.

Of note, with Tivoli Gardens' victory, Molynes United are on the brink of elimination and if Waterhouse beat Arnett Gardens, Molynes will definitely be out of contention.

Man-of-the-Match: Tkiven Garnett (Tivoli Gardens)

Teams
Vere United: 30-Kadeem Davis, 02-Ricardo Campbell, 03-Kenroy Lumthen, 05-Alton Lewis (12-Tavis Grant 87th), 08-Najja Biggs, 14-Javier Brown (06-Tashaine Campbell 87th), 17-Ricardo Dennis, 09-Ricardo Messam (13-Anjay Gayle 51st), 11-Romone Plummer, 20-Trevance Salamon, 24-Tyrese Harrison (16-Gregory Cousins 64th).
Subs not used: 40-Shavon Wilson, 22-Dunsting Ghen, 45-Courton Wright, 29-Rasheed Thomas, 25-Shamar O'Connor.
Coach: Donovan Duckie
Booked: Ricardo Dennis 90+3

Tivoli Gardens: 01-Davin Watkins, 05-Barrington Pryce, 06-Horatio Morgan, 32-Odean Pennycooke, 14-Kemar Flemmings, 08-Shavar Campbell, 18-Devroy Grey, 19-Rushane Thompson (15-Dasha Satchwell 79th), 20-Anthony Nelson (11-Trayvon Reid 66th), 38-Romaine Bowers (10-Jermaine Johnson 58th), 27-Tkiven Garnett.
Subs not used: 01-Nicholas Clarke, 24-Steve McQueen, 28-Asprellia Alexander, 21-Justin Dunn, 29-Earon Elliott, 09-Rodico Wellington.
Coach: Philip Williams
Booked: None

Referee: Veralton Nembhard
Assistant Referee 1: Jassett Kerr
Assistant Referee 2: Ojay Duhaney
Fourth Official: Andrew Hayden
Match Commissioner: Lascelles Logan
---
For more information contact JPL @ jplcomms@gmail.com