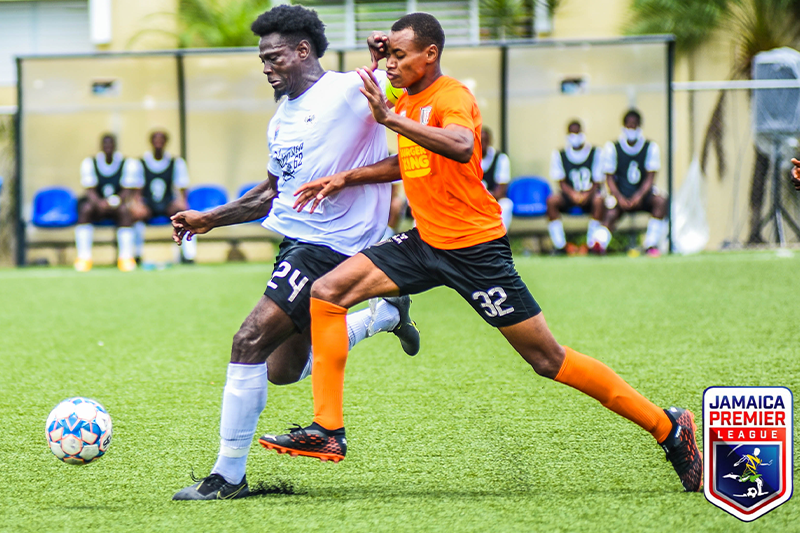 CAVALIER FC DRAW 1-1 WITH TIVOLI GARDENS FC
JAMAICA PREMIER LEAGUE
KINGSTON, JAMAICA
Sunday, August 1, 2021
With the last kick of the match, Devroy Grey scored in the 90+6 minutes and earned Tivoli Gardens a 1-1 draw with Cavalier in their Jamaica Premier League match at the UWI-JFF Captain Horace Burrell Centre of Excellence.

Cavalier looked well on their way to victory but Grey had other ideas and he anticipated well and slotted home from close range after defender Kyle Ming and his goalkeeper hesitated.

Grey has now scored three of Tivoli Gardens' four goals and it puts him just one behind leading goalscorer Oquassa Chong of Harbour View with four goals.

Earlier, Shaniel Thomas also netted his third goal of the season via the penalty spot in the 63rd minute after he was fouled in the box. He dusted himself off and sent the goalkeeper Davin Watkins the wrong way.

It was a game in which both teams ended with 10-men. Cavalier lost Bryan English in the 45th minute after he head-butted Kemar Flemmings, who himself, was yellow-carded in the incident.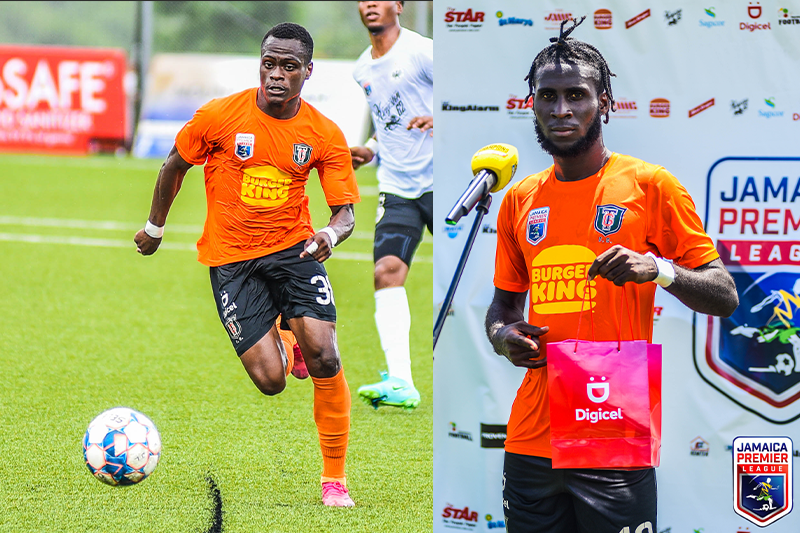 Then, Tivoli Gardens saw Andre Smith pick up two yellow cards in 13 minutes. The first was in minute 65 for dissent and the second in minute 78 for dangerous play.

Cavalier moved to the fifth spot on eight points while Tivoli Gardens stayed in the eighth spot on six points. Only the top six teams will make the playoffs.

At the end of the day, Tivoli Gardens were the more disappointing of the two teams as they hit the bar courtesy of Anthony Nelson and saw Grey-headed over when he should have hit the target.

Tivoli Gardens' head coach Phillip Williams, said his team didn't capitalize when they had the numerical advantage.

"I think we could have done more but we created chances and that has been plaguing us all season," Williams pointed out.

Meanwhile, Cavalier coach Everdean Scarlett was visibly upset after seeing his team drop two points and leave the game with only one.

"It's a difficult time now, we got a lead and gave up a soft goal like that. It must be disappointing for any team," said Scarlett.

"But we won't stop. We just have to go back and work on some new stuff and hopefully we get it right in our next game," he added.

Man-of-the-Match: Devroy Grey (Tivoli Gardens)

Teams
Tivoli Gardens: 01-Nicholas Clarke (33-Davin Watkins 42nd), 05-Barrington Pryce, 32-Odean Pennycooke, 14-Kemar Flemmings, 08-Shavar Campbell, 09-Rodico Wellington (10-Jermaine Johnson 60th), 12-Andre Smith, 20-Anthony Nelson 18-Devroy Grey, 25-Tommy Lawrence (06-Horatio Morgan 60th), 38-Romaine Bowers (19-Rushane Thompson 70th).
Subs not used: 33-Davin Watkins, 16-Clinton Ashley, 24-Steve McQueen, 27-Tkiven Garnett, 29-Earon Elliott, 21-Justin Dunn.
Coach: Philip Williams
Booked: Rodico Wellington 23rd, Shavar Campbell 44th, Kemar Flemmings 45th, Andre Smith 65th & 78th.

Cavalier: 31-Jeadine White, 03-Jeovanni Laing, 04-Richard King, 07-Ronaldo Webster, 15-Kyle Ming, 16-Melvin Doxilly, 24-Kamoy Simpson, 08-Marlando Maxwell (06-Nickache Murray 59th), 25-Bryan English, 17-Shaniel Thomas (09-Courtney Allen 86th), 10-Dwayne Atkinson (23-Cleo Clarke 86th).
Subs not used: 27-Jerome McLeary, 12-Gadial Irving, 14-Lamont Rochester, 18-Jamar Purcell, 21-Christopher Ainsworth, 22-Collin Anderson.
Coach: Rudolph Speid
Booked: (Red): Bryan English 45th, Kyle Ming 89th

Referee: Derron Davy
Assistant Referee 1: Melvin Reid
Assistant Referee 2: Shavarra Dennis
Fourth Official: Andre Farquharson
Match Commissioner: Lascelles Logan
---
For more information contact JPL @ jplcomms@gmail.com