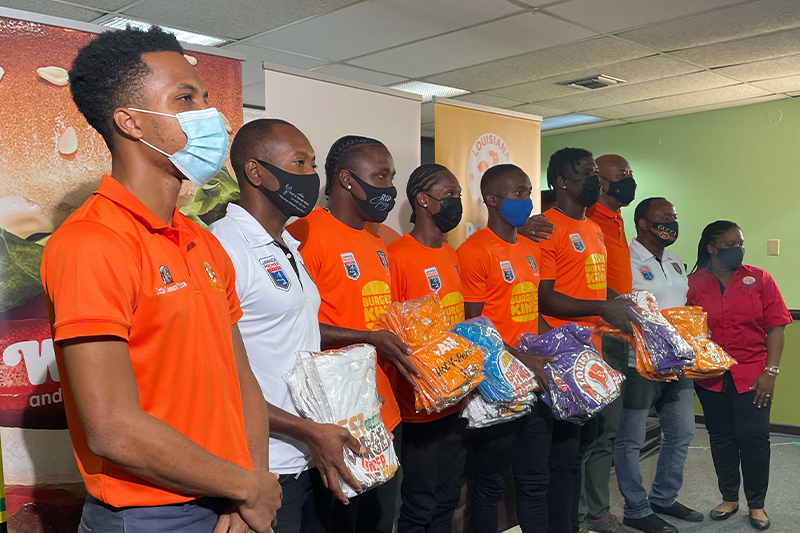 Jamaica Premier League Club Sponsor and Tivoli Gardens FC Meet The Press
JAMAICA PREMIER LEAGUE
KINGSTON, JAMAICA
Thursday, July 29, 2021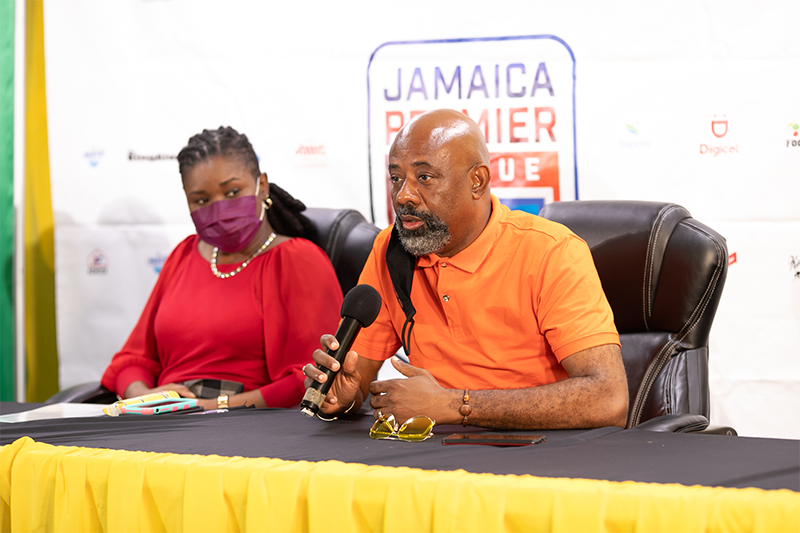 Professional Football Jamaica Limited (PFJL) sponsor Burger King, handed over $90,000 worth of gift vouchers and will be providing Tivoli Gardens FC with 200
meals from its Burger King, Popeyes and Little Caesars brands.

This was announced at the Meet and Greet series between sponsors and the club that they are paired with at the offices of the Jamaica Football Federation this morning.

Tivoli Gardens FC was also presented with training gears and Sabrena McDonald-Radcliffe, Head of QSR Sales and Marketing, pointed out that they have committed millions to the overall package that will support a community project.

"Burger King in association with Popeyes and Little Caesars are happy to suit up and join the Jamaica Premier League 2021 season. Sponsorship of football and sports, in general, has been a commitment for our brands for more than 30 years as we have supported road racing, swim meets, equestrian, squash league football teams and schoolboy football to name a few," McDonald-Radcliffe noted.

"Our commitment and a belief as a group of quick-service restaurant brands in the power of sports to shape players on the field into successful players in their lives is the reason why we have stayed in the game of sports sponsorships," she added.

"We believe that helping to power programmes that bring people together to celebrate the discipline, vigour, passion and perspiration of their favourite teams is an important investment in inspiration," said McDonald-Radcliffe.

She continued: "When we learned that our lead brand Burger King was paired with Tivoli Gardens FC for the season we were ecstatic. The history and energy of Tivoli Gardens FC are very much aligned with Burger King's. Both TG and BK have been around for decades and both brands believe and deliver on community empowerment programmes".

"We wish our team exceptional success in the 2021 season. May the winners' trophy be ours in the end," she added with a smile.

Meanwhile, in return, Tivoli Gardens presented their sponsors with a team jersey and a promise to deliver the title.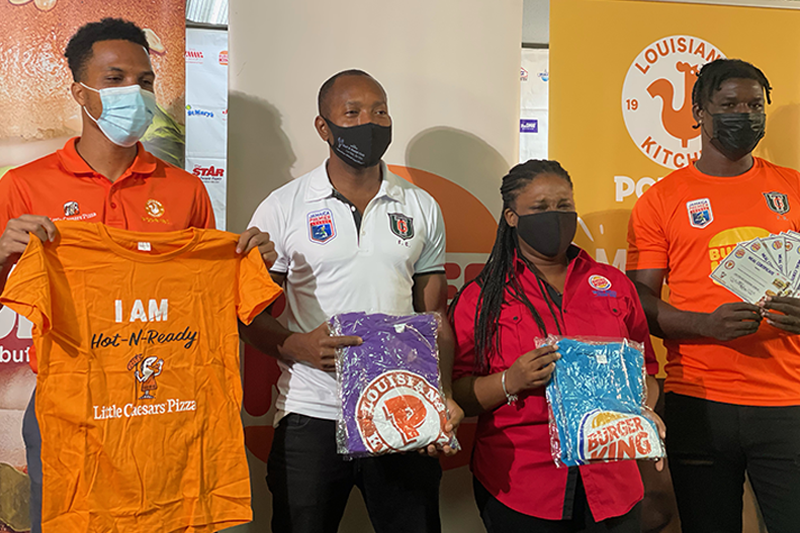 In attendance from Tivoli Gardens were head coach Phillip Williams, assistant coach Dwayne Blake, captain Barrington Pryce, Jermaine Johnson, Trevaune McKain and Steven McQueen.

Chairman for the Tivoli Gardens marketing committee, Stewart Jacobs, welcomed the sponsors saying they are extremely happy to be paired with Burger King.

"Tivoli Gardens football club is extremely delighted that we have been paired with Burger King, Popeyes and Little Caesars and primarily the Burger King brand, we are proud to be wearing at the front of our jerseys for the last four games with mixed results," Jacobs pointed out.

"We will continue our quest towards being at the top of the league towards the end so we share the spoils, '' he added, which brought a wide smile from McDonald-Radcliffe.

He continued: "It is no coincidence and I think it is divine that your colour is also our colour. The orange colour really compliments us".

"As a community, we are committed to the game. We are committed to being a part of the landscape of this country in football and Burger King coming on board is certainly one of the things that we will use as a catalyst to get us there," said Jacobs.

"One of our objectives for the team is to create a strong synergy with the community. We want to be the premier football brand in Jamaica and we want to be that outreach club to our community," he added.

"We want to ensure that your brand is showcased positively each time we go on the field and each time we are off the field. We will do our best to represent your brand in the best way," Jacobs reiterated.

Meanwhile, a doting Chad Cunningham, director of the Professional Football Jamaica Limited reiterated that there is only one true professional sport in Jamaica and that's football.

"This is a great day to welcome all sponsors, Burger King, Little Caesars and Popeyes. Jamaicans love all sports and a distinct passion for football," said Cunningham.

"There are only a few things that can ignite passion like football. People will talk about their teams. They know everything about the players involved and that's how the passion is around football". he pointed out.

"With this new initiative, restructuring and better marketing we are now seeing greater participation and love for the sport and we are happy to share that with you," he noted.

"We just want to welcome you and we look forward to bringing the demographic to you and helping you to build your brand and grow your business," Cunningham concluded.

The event is part of series of events called "Meet The Press" held by the PFJL to allow the eleven club sponsors and their teams an opportunity to speak to the media and share their plans to integrate and work together. The event was hosted by Paula Pinnock of FYI Consultancy Group, who also fielded several media questions in attendance and online. The next event is scheduled for Thursday, August 5th at 10 am.
---
For more information contact JPL @ jplcomms@gmail.com