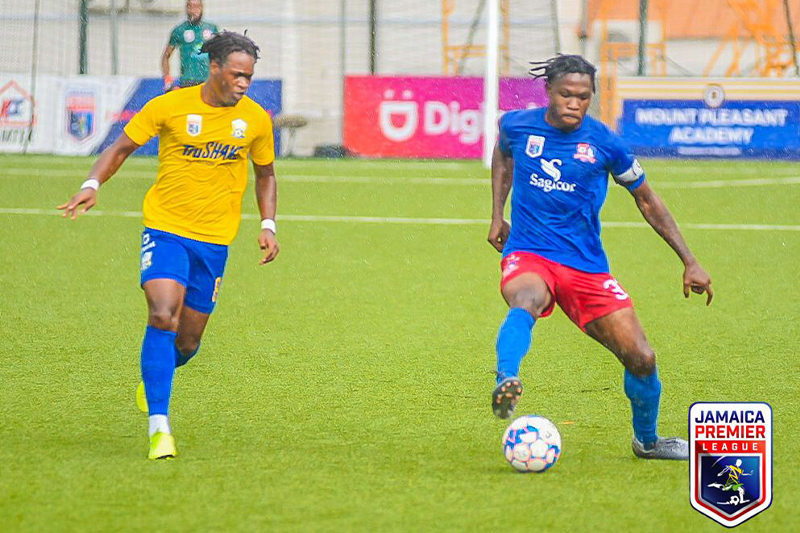 Dunbeholden Secures 3-1 Victory Against Molynes
JAMAICA PREMIER LEAGUE
KINGSTON, JAMAICA
Saturday, July 24, 2021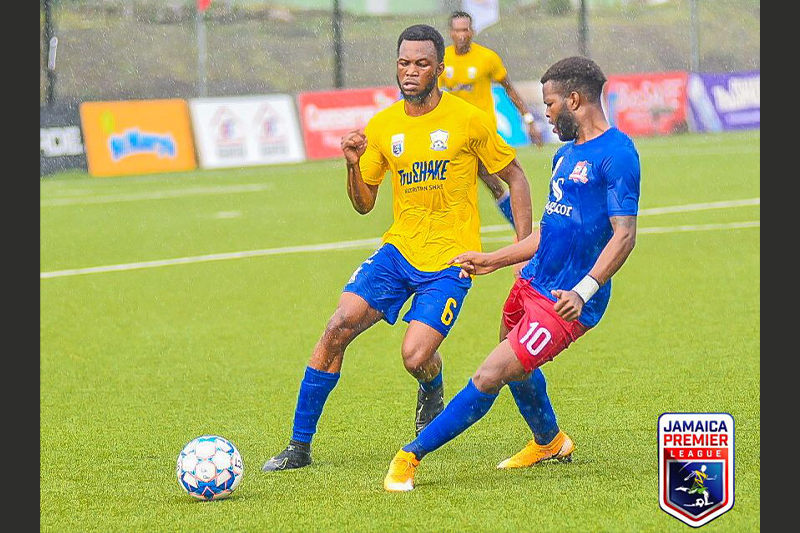 Dunbeholden FC secured their second win of the season with a 3-1 triumph over Molynes United in their Jamaica Premier League match at the UWI-JFF Captain Horace Burrell Centre of Excellence.

Kimoni Bailey grabbed a double netting in the 25th and 66th while Rodave Murray scored in the 21st minute. Nicholas Nelson replied for Molynes United with a consolation goal in the 71st minute.

Murray opened the scoring by tapping home an Atapharoy Bygrave cross before Kimoni Bailey doubled the advantage, firing home while losing his footing, from a Murray pass.

Bailey popped up for his second goal, slotting home after good work by substitutes Johann Weatherly and Nickoy Christian teed him up for an easy goal.

Nicholas Nelson collected a ball inside the box and turned the flat-footed Andre Dyce before firing home and brought some respectability to the scoreline.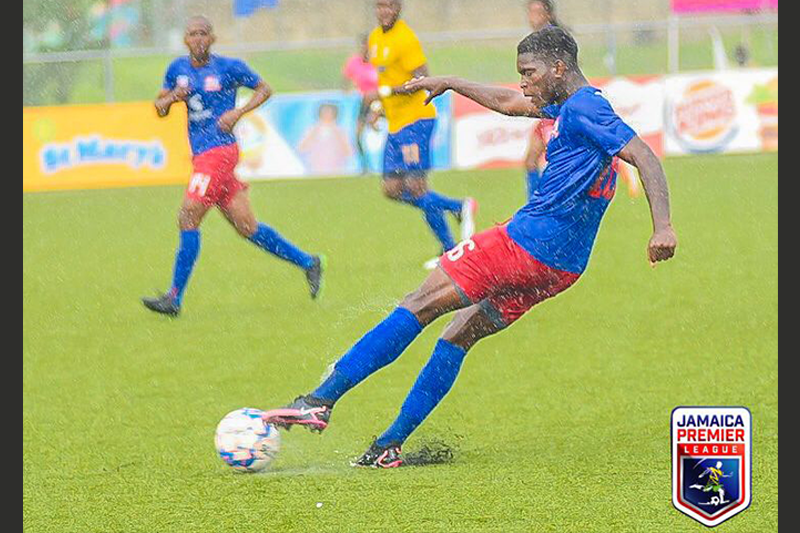 It was the second win for Dunbeholden and they moved to six points from five games, jumping four places into provisionally fifth spot, while Molynes United with their second defeat in four games is in 10th spot on two points.

Dunbeholden's assistant coach Ricardo Smith was more than pleased with his team's display and their climb into a top-six playoff spot.

"It can only be up for us now. Fifth with just six points is not bad, but we started off poorly with our first four games we only got one goal and in the fifth game, just one game, we got three goals.

We can only look up with this performance," said Smith.

Molynes United's assistant coach Andre Daley said it all went wrong quite early.

"We didn't get a good start, we came out and were on the back foot. They wanted the victory more than us," he noted.

Man-of-the-Match: Kimoni Bailey (Dunbeholden FC)

Teams
Dunbeholden: 32-William Benjamin (40-Damion Hyatt 18th), 03-Andre Dyce, 33-Shaquille Dyer, 13-Shevan James, 26-Romario McPherson, 10-Rodave Murray (08-Johann Weatherly 26th), 35-Mark Miller, 44-Dwayne Smith, 12-Kimoni Bailey (38-Clive Wedderburn 81st), 17-Atapharoy Bygrave, 24-Saneekie Burton (23-Nickoy Christian 64th).
Subs not used: 30-Rushane Taylor, 04-Maurice Mais, 15-Craig Gayle.
Coach: Harold Thomas
Booked: Andre Dyce 44th, Damion Hyatt 51st, Romario McPherson 62nd

Molynes United: 40-Leon Taylor, 17-Damion Thomas, 21-Kemar Seivwright, 14-Sergini Frankson (27-Dillion McEnnis 72nd), 22-Jevaughn Brown, 31-Fabiki Farquharson, 07-Jermy Nelson , 08-Tyrique Wilson (50-Rashawn Livingston 49th), 06-Tyrique Sutherland, 10-Nicholas Nelson, 11-Dawyne Smith (16-Marvin Emmanuel 72nd).
Subs not used: 01-Roje Williams, 05-Keith Wright, 25-Orane Ferguson, , 36-Ricardo Phipps.
Coach: Anthony Patrick
Booked: Dawyne Smith 61st

Referee: Derron Davy
Assistant Referee 1: Princess Brown
Assistant Referee 2: Melvin Reid
Fourth Official: Doyen Tummings
Match Commissioner: Ainsley Sharpe
---
For more information contact JPL @ jplcomms@gmail.com