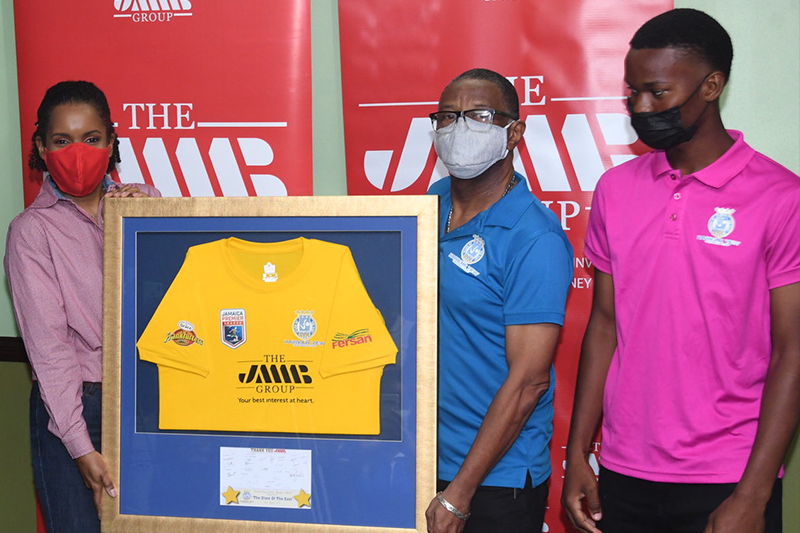 JMMB PARTNERS WITH HARBOUR VIEW FOOTBALL CLUB
JAMAICA PREMIER LEAGUE
KINGSTON, JAMAICA
Sunday, July 15, 2021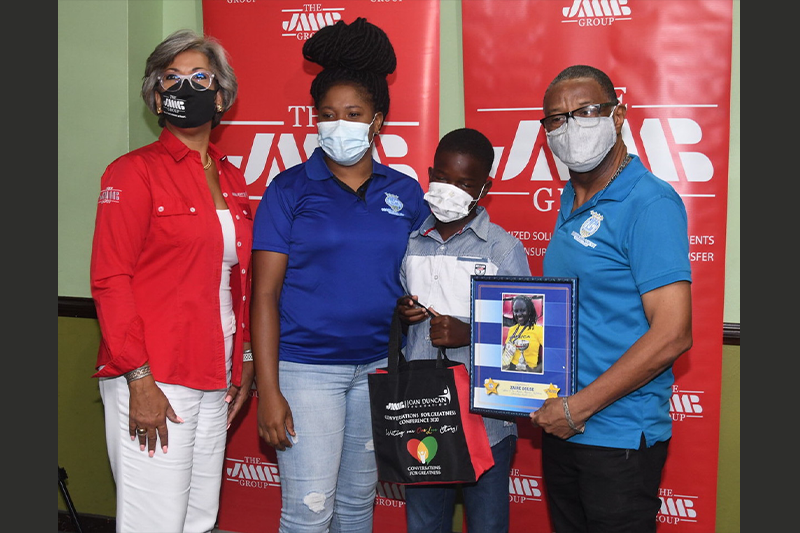 Jamaica Money Market Brokers (JMMB) handed over a cheque of $200,000 to the Happy Venture Basic School as part of their community outreach programme through their partnership with the Harbour View Football Club.

This was the second in the Meet the Press series between clubs and sponsors at the Offices of the Jamaica Football Federation (JFF) in New Kingston on Thursday.

JMMB, which is the official sponsor of Harbour View FC, also awarded the Monica Malcolm-McFarlane Scholarship to 12-year-old outstanding Harbour View player Zaire Douse.

Kerry-Ann Stimpson, Chief Marketing Officer, JMMB Group, explained that their organization is to help everybody with who they interact as a company, to experience love and realize the greatness that is within them.

"We are not just here for the game, for the team, we are here for the community," Stimpson noted.

"We are just one of the many proud and happy sponsors of this league and I just want to share why we came on board as sponsors," said Stimpson.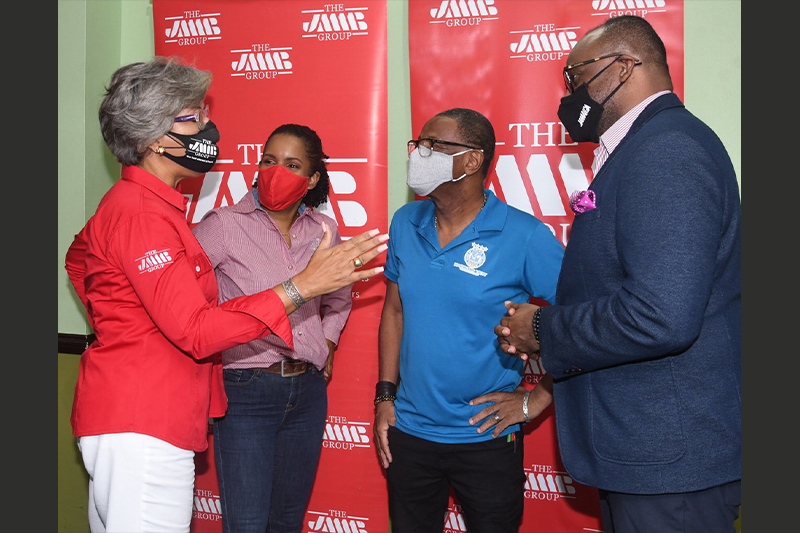 "It is very easy to talk about football and sports in general as Jamaicans, we all love it and spend a lot of time enjoying it, as part of our own recreational life as a people.

"But as an organization, JMMB, we see ourselves as more than just a part of the Jamaican landscape, but we are also a unique kind of organisation, a unique kind of financial institution. What makes us unique is the basis on which we were founded" she noted.

"We were founded in the early 90s as a financial institution that was set up to empower every Jamaican to start investing but with a few hundred dollars. At that time investing was only open to the large financial institutions and high network individual investors and our late co-founder Joan Duncan said every Jamaican needed to be able to invest towards their financial goals," she explained.

She continued: "That's part of the reason we choose to be a part of it. Yes, cutting a nice cheque is always great. We need money to do what we do as a league and to get the game going. But we see our role as larger than that because we are talking about a vehicle of empowerment of our young men who are a part of the programme. The coaches, the staff and the support team are part of this broader network".

"We want to empower the persons of the team to know how to better manage money and their personal finances and will be offering financial planning sessions for everybody so that they understand the intricacies of how to manage their money from budgeting to the basics of investing to managing credit which is very important," Stimpson added.

"The Harbour View football club is part of a broader community so we were brought to mind of Monica Malcolm-McFarlane, who was stalwart of the youth programme, so in her memory, we are also going to making a contribution as well to the Happy Venture Basic School to support them and some much-needed refurbishing that's needed at the school.

"So on behalf of our CEO Keith Duncan who himself was part of really leading the charge for us to engage in this way. We thank the league so very much for being a part of it and we wish you all continued success, a wonderful season and cheers to future success," said Stimpson.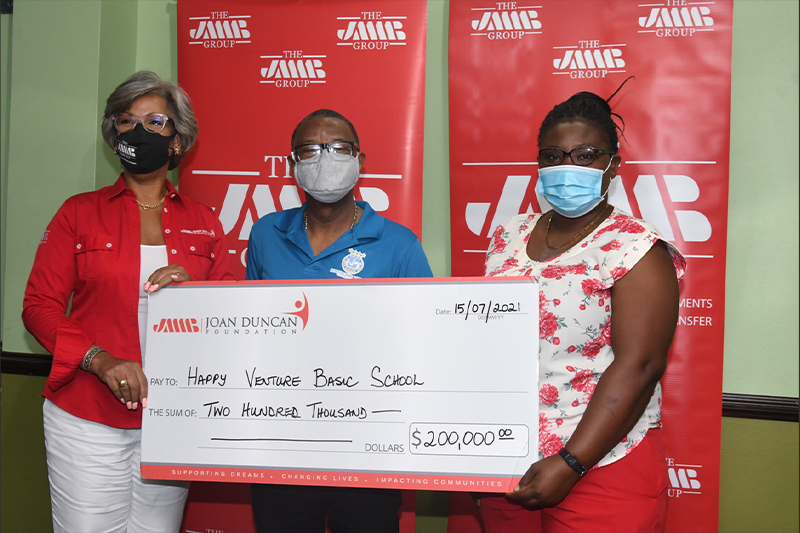 The principal of Happy Venture Basic School, Latoya Rowe was ecstatic and could not contain her joy at the support they got from the sponsors and the football club for the facelift of the school.

"It's such a great honour to be here this morning, especially to represent the late Mrs Monica Malcolm-McFarlane. One of her biggest objectives was to get the tilling of the school done. So we just want to thank Mr Jureidini for working so assiduously for assisting the school along with the JMMB so that one of her objectives could be met," said Rowe.

"We really, really appreciate it and we couldn't have done it without the support of the Harbour View football team and the JMMB foundation," she reiterated.

Meanwhile, Clyde Jureidini, general manager of Harbour View pointed out that this is a special occasion as they and JMMB have had a long history.

"When the JMMB was being formed with none other than Joan Duncan, a very close friend of hers and the chairman of our football club, none other than Mr Carvel Stewart, always good friends in the business as well as in a personal relationship so we were all encouraged to start our own accounts. So Harbour View football club and many of us, I am one," Jureidini pointed out.

"So we have an Under-13 account, Under-15 account and four of our female players that went to the World Cup came through one of your accounts. Our senior team and our cambia also have accounts. So we have a long relationship that we hope to enrich and get further into," said Jureidini.

Donovan White, a director of the Professional Football Jamaica Limited, was on hand to offer greetings.

"Football at this level in Jamaica has gone through what I believe a bit of a renaissance and I think it's important to say that we believe we used our inability to playtime during the pandemic to really cause a shift in our direction. A shift in our focus and a shift on what we believe we are celebrating with our sponsors today –- JMMB -- and indeed with all our commercial partners with the league," said White, who is also president of Waterhouse FC.

"Today is extremely special for us to officially announce the JMMB family to our Jamaica Premier League. The Jamaica Premier League is our top football league and the only fully professional sport that's played in Jamaica," said White.

"I hope that the partnership that we have been able to engage with JMMB as well as Harbour View with JMMB, will be a strong one, a long one and one that will stand the test of time," said White.
---
For more information: Email: jplcomms@gmail.com