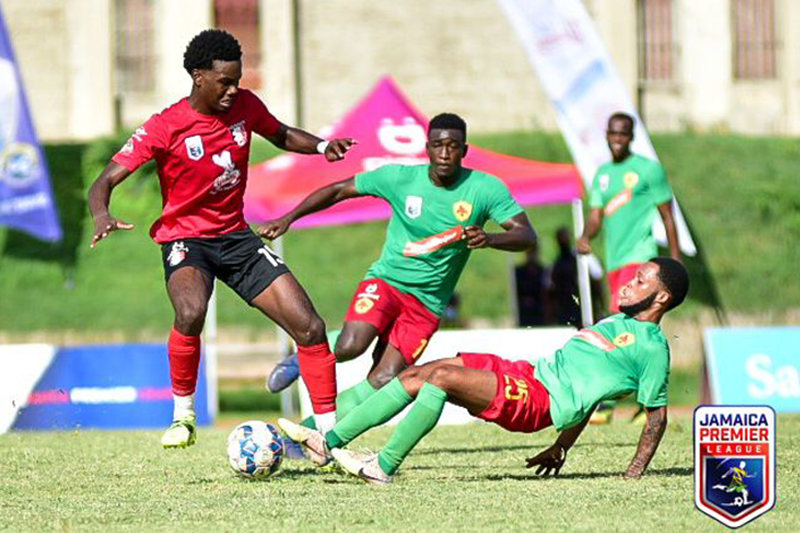 ARNETT GARDENS COME FROM BEHIND TO SINK HUMBLE LION TO THEIR THIRD DEFEAT
JAMAICA PREMIER LEAGUE
KINGSTON, JAMAICA
Sunday, July 11, 2021
Former champions Arnett Gardens came from behind to beat Humble Lion 2-1 in an exciting encounter in the final game of round three in the Jamaica Premier League at the Stadium East field on Monday.

Former Arnett Gardens star, Vishinul Harris opened the scoring for his new club Humble Lion in the 8th minute. But goals by Jonoy Cunningham (14th) and Renaldo Cephas (75th) turned it around for the Junglists.

Harris latched onto a Levaughn Williams' defense-splitting pass and slotted home but Cunningham pulled Arnett Gardens leveled with a thumping header from an Oshane Roberts corner kick.

Then the lively and skillful Cephas who missed a sitter in the 72nd minute returned three minutes later and found the clincher in clinical fashion side-footing home from close range in the 75th minute.
It was a very good win for Arnett Gardens as they opened their account in style and moved into the eighth spot with three points from two games. The Alex Thomas coach outfit has a game in hand and sits just three points adrift of the leaders Portmore United on six points.

Clarendon-based outfit Humble Lion remained at the bottom of the 11-team league without a point from three games and with a lot of work to do.

Losing coach Andrew Price of Humble Lion said his team is getting fitter but they didn't close down the opponents and paid the price.

"We didn't press the Arnett Gardens team enough. They are a young team full of energy and if you don't pressure then you won't be able to gain the ascendancy," he pointed out.

"I think we played in patches and weren't very consistent throughout the game and we will just have to continue to work," said Price.

He continued: "We didn't play well enough today to win the game and we will have to accept that. We have to look in the mirror and see we weren't good enough today".

But he remained optimistic that things will turn around for the better, but it will take time.

Meanwhile, Arnett Gardens' assistant coach Lamar Brown said it was a most satisfying win to kick start their season.

"Today was pleasing knowing that we got our first win with lots of shots on goal. It was very pleasing," said Brown.

"We have a youthful bunch of players and we tried to make them (Humble Lion) run as long as possible," he noted.

Man-of-the-match: Renaldo Cephas (Arnett Gardens).

Teams
Arnett Gardens: 01-Chadeem Rodriques, 02-Oneil Anderson, 03-Oshane Roberts, 04-Ezran Simpson, 08-Marlon Martin, 09-Hardley Barnes (16-Rushike Kelson 60th), 16-Romeo Guthrie, 19-Luca Kung, 05, Jonoy Cunningham, 07-Renaldo Cephas (24-Damari Deacon 84th), 27-Steve Clarke (31-Donovan Segree 72nd).
Subs not used: 40-Shaquan Davis,11-Shemar Boothe, 22-Kemoy Slowley, 28-Deshawn Bernard.
Coach: Alex Thomas
Booked: Marlon Martin 55th, Ezran Simpson 83rd, Oneil Anderson 88th

Humble Lion: 55-Mikhail Harrison, 18-Shemar Rhoden, 19-Gregory Lewis (31-Hugh Howell 60th), 35-Ricko Edwards, 51-Linval Lewis, 13-Mark Rodney, 12-Andrew Vanzie, 07-Vishinul Harris (45-Rohan Richards 79th), 06-Levaughn Williams, 15-Lorenzo Lewin, 25-Courtney Hill (20-James Thomas 69th).
Subs not used: 60-Keneil Petrie, 06-Fabian Pascoe, 30-Shamari Dallas, 34-Afiba Chambers, 27-Gregory Morgan.
Coach: Andrew Price
Booked: Hugh Howell 90th

Referee: Odette Hamilton
Assistant Referee 1: Lloyd Edwards
Assistant Referee 2: Ricardo McKenzie
Fourth Official: Carvel Banton
Match Commissioner: Ewan Scott
---

For more information:
Email: jplcomms@gmail.com