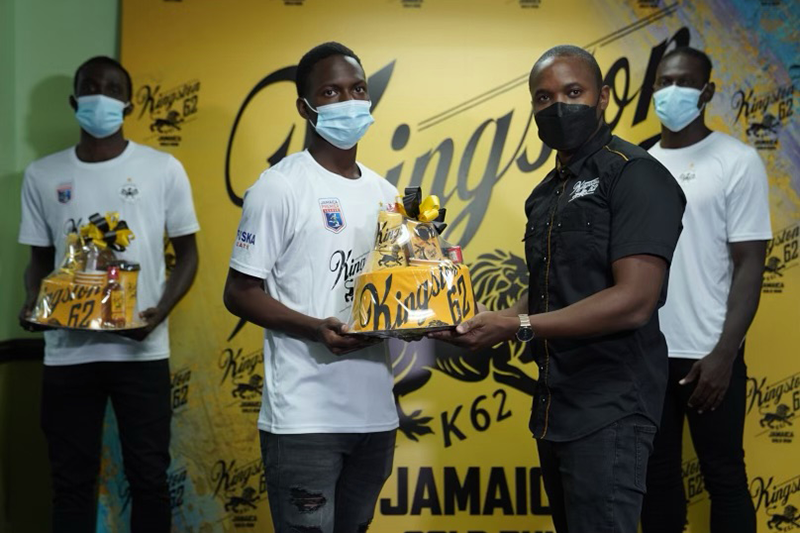 KINGSTON 62 GIFTS YOUNG STAR BALLA DWAYNE ATKINSON $62,000
JAMAICA PREMIER LEAGUE
KINGSTON, JAMAICA
Thursday, July 8, 2021
Cavalier FC's promising striker Dwayne "Busy" Atkinson was presented with $62,000 from club sponsor Kingston 62 as the Professional Football Jamaica Limited (PFJL) kicked off its meet-and-greet series between clubs and sponsors.

The event took place at the Offices of the Jamaica Football Federation (JFF) in New Kingston which saw sponsor Kingston 62 presenting 40 gift baskets to the players and club.

In return, Cavalier also presented Kingston 62 with a signed jersey as a token of their appreciation. In attendance for Cavalier were captain Kamoy Simpson, Nickache Murray, and Atkinson.

The 19-year-old Atkinson was the "Star Balla" of "Match Day 1" following his brilliant goal and a sumptuous assist as Cavalier defeated Humble Lion 2-0; and that was not lost on the club's [assigned] sponsor, Kingston 62.
Kamal Powell, regional marketing manager of J Wray & Nephew (JWN) Limited, the parent company for the Kingston 62 brand, said they are extremely happy to be associated with Cavalier as they have a lot in common.

"We are really excited about this wonderful partnership with Cavalier because we believe it's a natural fit. If you look at how vibrant the team is and how young the team is, it fits specifically with a brand like Kingston 62 which is also young, vibrant, and exciting.

"They are like the roaring lions that you can see in our logo. We are proud of the fact they are on top of the table and stretching for greatness hopefully to achieve that by the end of the year.

"As a brand, we are extremely proud of the fact that he is the first Star Balla, and of course he is from our club and in the true nature of Kingston 62, we will be awarding him $62,000 as part of our contribution for being Star Balla of the first round," said Powell.

"It is really important to see when young players achieve so much and he is very young and you can see from his style of play he is determined to make it to the top. Congratulations again and we are looking to see you at the finals and hopefully you can get the golden boot," said Powell.

"Of course, we are proud as Kingston 62 to be a sponsor of Cavalier and of course the Jamaica Premier League. 62, is about planned corroborations and we could not do this without the wonderful support of the Jamaica Premier League," Powell noted.

"We have joined this partnership for many reasons and one of them is really because we want the opportunity to be a part of the resurgence of football in Jamaica. Being away for over a year, I am sure would have put a lot of pressure on the athletes, the foundation, and the families that are around football," he added.

The draw for sponsors and club took place months ago and it could not have been more coincidental that Kinston 62 was paired with Cavalier as revealed by Chad Cunningham, general manager of Cavalier FC.

"It is rather ironic that Kingston 62 ended up being our club sponsors for Cavalier because as you can see from our crest, we were established in Kingston in 1962," Cunningham pointed out, which drew applause from the small gathering.

"So it's quite fitting that Kingston 62 is our sponsor but the synergies don't stop there. They like to entertain, we like to entertain and we take great pride in the brand of football that we play and the fact that we promote as many young talents as possible. Player development is high on our priority list and we take great pride in that. We are counted as the number one club in CONCACAF for giving minutes to youth players," said Cunningham.

"So welcome Kingston 62. We thank you for coming on board and we look forward to a long and prosperous and fruitful relationship for everybody involved," he reiterated.

Meanwhile, Lloyd Distant, Professional Football Jamaica Limited (PFJL) board member was on hand with a message from the organizers.

"It's an absolute pleasure on behalf of the Professional Football Jamaica Limited to have this opportunity to engage with our sponsors as well as one of our premier clubs," said Distant.

"This is the first in a series of events that will be taking place giving our sponsors and the teams an opportunity to meet and engage.

"We consider this to be an important facet in what we are doing in engaging the new and improved approach for our sponsors who are provided the opportunity to engage with the team they are most closely aligned with," said Distant.

He continued: "The program that we have for the continued growth and development of professional football is quite different from what you may have seen or experienced previously".

"This is the kind of sponsorship engagement directly with the clubs and we want to promote our sponsors and give additional exposure, but certainly to provide the wherewithal for the clubs and the players to stand out and say I have a proud Jamaican brand that is associated with me. I think it is a phenomenal opportunity," said Distant.

"So on behalf of the PFJL thanks for stepping up and we look forward to you jumping on board next year," he closed.

The Meet The Press formalities ended with captain Kamoy Simpson giving the vote of thanks on behalf of the players and the management of Cavalier FC.

Jamaica Premier League action resumes this weekend, July 10th-12th live on Sportsmax and CVM TV from 1:00 pm and 3:30 pm.
---

For more information:
Email: jplcomms@gmail.com