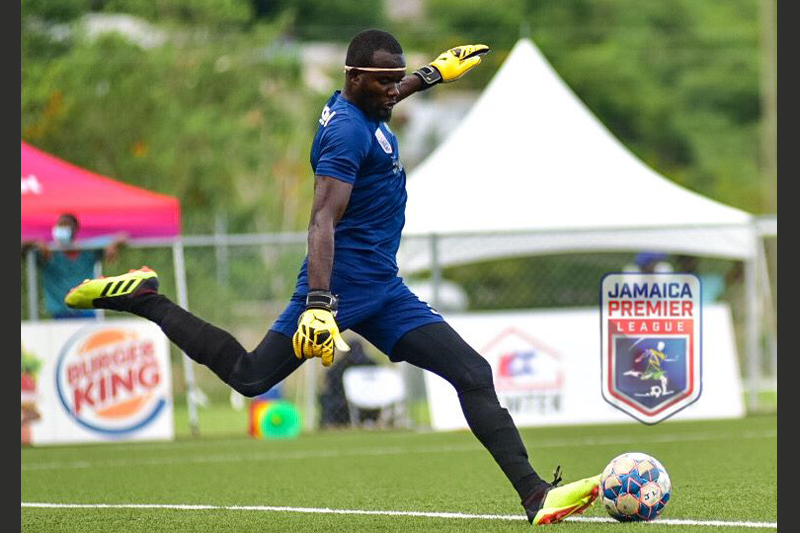 VERE SHUTSDOWN PORTMORE
JAMAICA PREMIER LEAGUE
KINGSTON, JAMAICA
Tuesday, July 6, 2021
Vere United created the first real upset of the Jamaica Premier league season by stunning defending champions Portmore United 1-0 at the UWI-JFF/ Captain Horace Burrell Centre of Excellence.

Lamard Neil netted the all-important goal in the 67th minute as Vere United joined four other teams on four points atop of the 11-team league. Portmore United is down in sixth on three points.

Neil was on the end of a Ricardo Dennis pass and he made no mistake from close range, hitting his shot wide of the outstretched hands of the onrushing goalkeeper Kemar Foster.

It was a significant win for the Clarendon-based Vere United having struggled badly in last year's competition that was canceled; hence they were saved from relegation.
But now under the guidance of the astute Donovan Duckie, Vere United has now gone two games unbeaten having drawn with Molynes United 0-0 last week and yet to concede a goal.

There was not much goalmouth action for the first 30 minutes, in fact, in the entire game, but Vere somehow found the winner.

Portmore's Raffique Bryan was stripped of possession in his own half by Ricardo Messam and passed to Dennis who picked out Neil for a well-worked team goal.
Vere United looking well organized saw out the game comfortably and in the end, were deserved winners.

Portmore United never looked capable of penetrating Vere's backline and turned in a lackluster display despite having 60 percent of the possession.

Vere United's midfielder Javier Brown was adjudged Man of the match and he was happy.

"It was difficult after coming off a draw last week and we needed to get a better result this week and not to lose," said Brown.

"The team followed the instructions the coach gave us so it was a job well done," he added.

Losing coach Ricardo Gardner of Portmore United thought his team could have done a lot more throughout the game.

"When we moved the ball quickly we looked the part but we didn't do it consistently enough so we have to work on that going forward and there is a lot to learn from this game," said Gardner.

Vere's coach Donovan Duckie, who could be heard screaming for the final whistle, said his team did well under the conditions.

"We worked on our cardiovascular fitness and our strength endurance and this week we got to do some tactical work. We understood exactly what to do," said Duckie.

"Tactically they played into our hands and that gave us the go-ahead goal. It was a cat and mouse game," he noted.

Teams
Vere United: 30-Kadeem Davis, 02- Ricardo Campbell, 03-Kenroy Lumsden, 05-Alton Lewis, 14-Javier Brown, 17-Ricardo Dennis, 18-Lamard Neil, 45-Courton Wright (12-Tavis Grant 46th), 11-Ramone Plummer, 20-Trevance Salamon (09-Ricardo Messam 65th, (29-Rasheed Thomas 90+5), 24-Tyrese Harrison (23-Javel Ellis 28th)
Subs not used: 40-Shavon Wilson, 21-Tyrickle Harrison, 22-Dunsting Ghen.
Coach: Donovan Duckie
Booked: None

Portmore United: 13-Kemar Foster, 04-Damano Solomon, 14-Alvinus Myers, 23-Emelio Rousseau, 07-Seigle Knight, 08-Ricardo Morris, 09-Demario Phillips, 10-Raffique Bryan (26-Revaldo Mitchell 77th), 19-Nicholas McArthur (12-Javick McFarlane 65th), 34-Omar Reid (11-Shande James 65th), 29-Tajay Brown.
Subs not used: 01-Eric Edwards, 02-Antonio Biggs, 22-Zain Hylton, 21-Jevoun Bascoe
Coach: Ricardo Gardner
Booked: Tajay Brown 42nd, Ricardo Morris 84th.

Referee: Andre Farquharson
Assistant Referee 1: Stephanie-Dale Yee Sing
Assistant Referee 2: Gavin Carvalho
Fourth Official: Alexi Perry
Match Commissioner: Anthony Gibbs
---

For more information:
Email: jplcomms@gmail.com