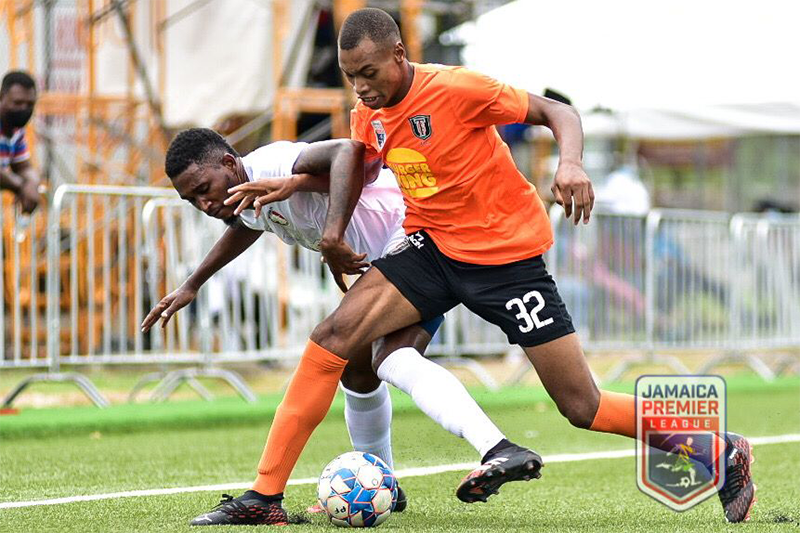 TIVOLI GARDENS EDGE ARNETT
JAMAICA PREMIER LEAGUE
KINGSTON, JAMAICA
Tuesday, July 6, 2021
A 67th-minute strike by Devroy Grey gave Tivoli Gardens a 1-0 win over arch-rivals Arnett Gardens in their Jamaica Premier League encounter at the UWI-JFF/Captain Horace Burrell Centre of Excellence.

Grey, who came on as a 46th-minute substitute, nodded home in minute 67th from a Romaine Bowers cross and secured three valuable points for Tivoli Gardens.
The orange and black bearers from West Kingston moved to four (4) points from two games and joint top of the league along with Waterhouse, Cavalier, and Mount Pleasant. But are fourth on goal difference.

Arnett Gardens with their first game of the season are in the ninth spot ahead of Humble Lion and Dunbeholden FC -- all pointless.
Despite the narrow margin of victory, the scoreline should have been much wider as the more experienced Tivoli Gardens dominated the game and should have scored at least two more times.

This is an Arnett Gardens team in transition and they offered very little in the final attacking third to really worry Tivoli Gardens.

But they did hit the outside of the upright courtesy of Romeo Guthrie and in the second half, Renaldo Cephas charged into the box but his cross was cut out by the defenders.

Veteran Tivoli Gardens striker Jermaine "Teddy" Johnson twice tested goalkeeper Chadeem Rodriquez with freekicks, while Anthony Nelson had his header saved.

But goalkeeper Rodriques would eventually be beaten as Grey, who had an impactful game, nodded home the clincher for Tivoli Gardens.

Another substitute Rodico Wellington should have doubled the lead but his effort was charged down by the goalkeeper Rodriques who had a very good game between the sticks.

Defender Odean Pennycooke of Tivoli Gardens was voted Man of the Match and he was pleased with his performance.

"I thought it was pretty good today. I was in training sessions doing my best to come out and I did my best and I paid off," noted Pennycooke.

Winning coach Phillip Williams was pleased about his team's display in securing their first win of the season as this was one of the games they had as a winnable game.

"I am glad we put away one of the chances. We were mostly focusing on our defensive unit and as you can see we have two clean sheets from two games. But there is more work to be done," said Williams.

Arnett Gardens assistant coach Lamar Brown said they will have to go back on the training pitch and work harder.

"The performance wasn't up to par. It was our first game after a long wait. But inexperience cost us the game," said Brown.

Teams
Tivoli Gardens: 33-Kewong Watkins, 03-Davion Garrison (38-Romaine Bowers 46th), 05-Barrington Pryce, 14-Kemar Flemmings, 06-Horatio Morgan (25-Tommy Lawrence 69th), 12-Andre Smith, 20-Anthony Nelson (19-Rushane Thompson 90th), 23-Trevaune McKain, 32-Odean Pennycooke, 29-Earon Elliott (18-Devroy Grey 46th), 10-Jermaine Johnson (09-Rodrico Wellington 69th).
Subs not used: 01-Nicholas Clarke, 24-Steve McQueen.
Coach: Philip Williams
Booked: Romaine Bowers 81st

Arnett Gardens: 01-Chadeem Rodriques, 03-Oshane Roberts, 04-Ezran Simpson, 08-Marlon Martin, 09-Hardley Barnes (27-Steve Clarke 64th), 16-Romeo Guthrie, 18-Shadane Lopez (24-Damari Deacon 64th), 19-Luca Kung (17-Rushike Kelson 78th), 31-Donovan Segree, 05, Jonoy Cunningham, 07-Renaldo Cephas.
Subs not used: 22-Kemoy Slowley, 28-Deshawn Bernard, 40-Shaquan Davis, 02-Oneil Anderson.
Coach: Alex Thomas
Booked: Jonoy Cunningham 87th

Referee: Veralton Nembhard
Assistant Referees 1: Jermaine Yee Sing
Assistant Referee 2: Kioney Denton
Fourth Official: Damion Coombs
Match Commissioner: Ewan Scott
---

For more information:
Email: jplcomms@gmail.com