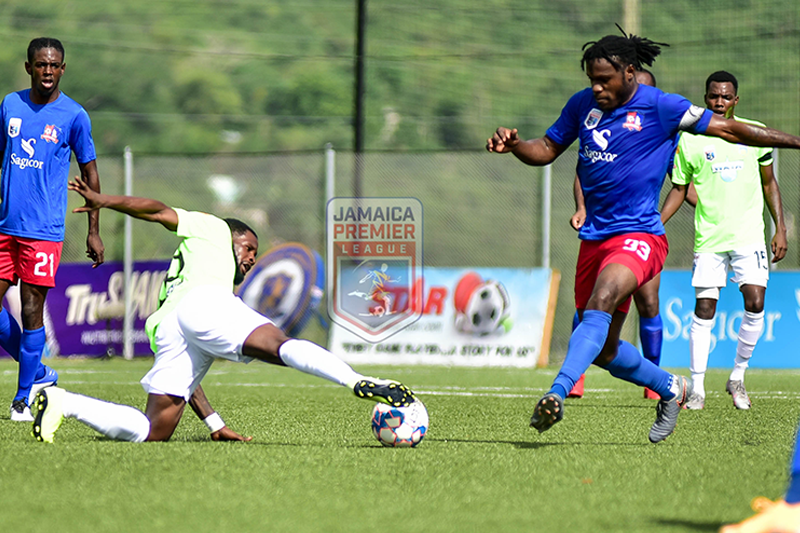 PFJL Reports 100% Negative COVID-19 Test Results – Week 2!
JAMAICA PREMIER LEAGUE
KINGSTON JAMAICA
Tuesday, July 6, 2021
Since the start of the Jamaica Premier League on Saturday, June 26, local professional footballers and their handlers have responded positively to the measures put in place by the Ministry of Health and Wellness and ODPEM, to safely manage the return of play for the sport locally, against the threat of COVID-19. After getting the green light for the return to play for the sport from the Government of Jamaica seven weeks ago, the league will successfully complete two full rounds of games today.
The Professional Football Jamaica Limited (PFJL) who are charged with the responsibility to organize and commercialize the league, is again reporting that all the teams in the league inclusive of players and officials, have been fully compliant with the Covid-19 testing regime and had 100% negative test results two consecutive weeks.
Lloyd Distant, PFJL Director, commented on the positive news, "the hard work of the teams and respecting the protocols established by the league, is paying huge dividends for us in demonstrating that, with good discipline and adherence to protocols, we can control the spread of COVID-19 and successfully put our players and coaches back to work. For us, 100% negative Covid-19 tests results by all teams and officials, two weeks in a row, is an outstanding achievement that proves we understand the value of what has been presented to us and the example we must provide for all other sectors of the economy."
Michael Ricketts - JFF President was full of praises for the PFJL, "I am pleased that we have moved from off the field planning to the field of play. It continues to be my absolute pleasure to see our players and the new-look product of the Jamaica Premier League on-field and on television. I cannot overemphasize the importance of protocol compliance and with the report that all teams and officials again returned negative Covid 19 test results, I must again commend this effort. The Jamaica Football Federation continues to urge all our stakeholders to adhere to the established protocols in managing the spread of COVID-19, even as the economy opens up to allow more sectors and individuals to re-engage with more hours of movement."
"The PFJL and all our partners are committed to the highest standards of excellence for the Jamaica Premier league and will leave no opportunities on the table in making this goal a reality" closed Christopher Williams, Chairman.
Results of the games played – Week 2:
Humble Lion FC (0) Mount Pleasant FC (1)
Dundeholden FC (0) Waterhouse FC (2)
Harbour View FC (1) Cavalier SC (1)
There two games remaining in the week two fixture
1 pm Tivoli Gardens FC v Arnett Gardens FC – Tuesday, July 6
3:30 pm Vere United FC v Portmore United FC – Tuesday, July 6
Both games will be aired live on Sportsmax
---

For information, contact Arlene Martin – profootballja@gmail.com