2019-11-28 22:33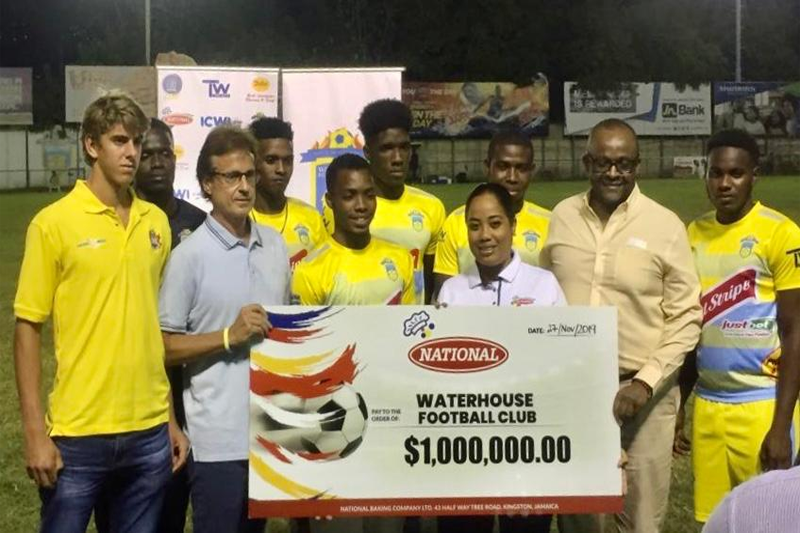 Dwayne Richards
waterhouse receives "MILLION DOLLAR" sponsorship from National
Kingston, Jamaica
November 27, 2019
Waterhouse Football Club
National Premier League Leaders Waterhouse Football Club tonight received a much-needed financial boost with a symbolic cheque for $1,000,000.00 to signal its partnership with one of Jamaica's oldest and most respected brands National. The partnership which was the brainchild of Bruce Bicknell – Chairman, Waterhouse and Gary 'Butch' Hendrickson – CEO, National Baking Company is built on mutual respect and trust and a willingness to provide hope and opportunity for young men through sports.
The commitment to Waterhouse FC by National Bakery is a multi-year agreement where the club benefits from financial support plus ongoing product support for the benefit of the football programme. Commenting on the partnership, Club Chairman Bruce Bicknell remarked, "we are very humbled that a big and respected brand like National, has seen the vision we have for Waterhouse Football Club and has committed its name and money to support our ambitions to be the best football club in Jamaica, I want to publicly say thank you to them for this partnership."
Speaking on behalf of National, Brand Manager, Miss Omega Harris says, "Community development has always been a major focus for us as a company, and even more so involvement that prioritizes our youth. Our support of the Waterhouse Football Club and by extension, the community of Waterhouse, has been one of our longest and most rewarding partnerships. Observing the impact of the club on the lives of these young men is truly remarkable; without a doubt, this is a commitment that is worth preserving."
The presentation of the cheque was made to the club during the Red Stripe Premier League fixture with Portmore United at their stadium in Drewsland, Waterhouse.