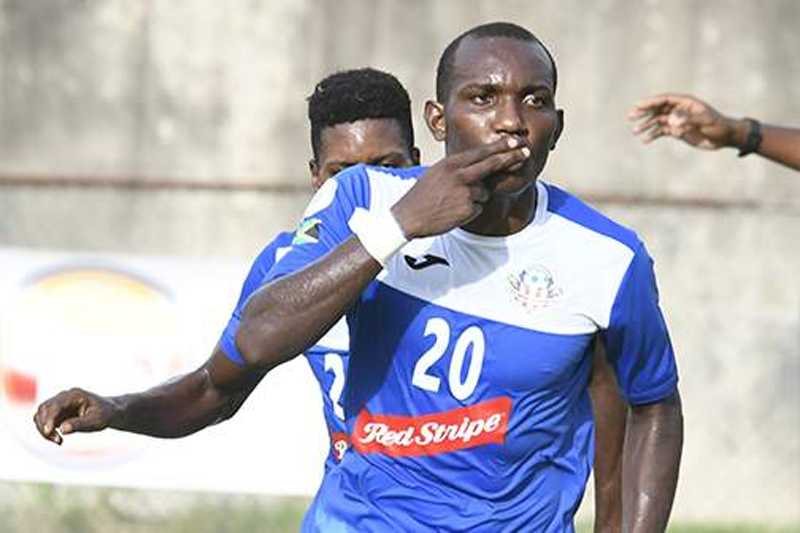 Portmore United's Rondee Smith celebrates scoring his team's second goal against The Unive
Flying high
BY HOWARD WALKER
Senior staff reporter
walkerh@jamaicaobserver.com
Monday, October 14, 2019
Defending champions Portmore United continued their resurgence with a 2-1 win over The University of the West Indies (UWI) FC at Spanish Town Prison Oval yesterday.
Goals by Cory Burke (12th) and Rondee Smith (26th) pushed Portmore United to their third win from their last four matches. They climb three spots to fourth on 10 points.
Trivante Stewart had given the visiting UWI the perfect start, netting in the first minute of play. But they were unable to hold on and suffered their third-consecutive loss and their fourth in their last six games.
UWI are down to 10th with five points, with only goal difference keeping them above bottom-placed teams Vere United and Tivoli Gardens.
Portmore United, who lost their first three games, have recovered well, but Head Coach Ricardo Gardner wants more from his team.
"There are a lot of positives to take away from today's game, but I still think we can be a little bit more clinical. If we were more clinical we could have put away at least eight chances to be honest with you," Gardner explained.
"But we have to start keeping clean sheets at the other end also if we not putting away our chances because clean sheets win us game," he added.
"It is always positive to get on a momentum, but we still have a lot of work to do so we have to get back to the drawing board," said Gardner.
UWI Head Coach Andrew Peart said his team performed well, though not getting the desired result.
"If you look at the second half we were the team in control. The chances that Portmore may have created [came] because we were committing more numbers forward," said Peart.
"In terms of possessing the ball and trying to find those openings, we were the ones doing that. I think in the first half our biggest downfall was not managing the physicality and the runs that Burke was making. And in the second half, we made a change in bringing on Davian Shakes and he really blocked the lines to him and won most of the second balls," he pointed out.
Teams
Portmore — Shaven Paul, Ryan Wellington, Osani Ricketts, Siegle Knight (Sheldon McKoy 75th), Emelio Rousseau, Romaine Brackenridge, Damian Williams, Cory Burke, Rondee Smith, Shai Smith (Venton Evans 64th), Kareem Banton (Roshane Sharpe 86th).
Subs not used: Kemar Foster, Hardley Barnes, Jehvonte Hoquee, Romaine Bowers, Earon Elliott, Benjamin Williams.
Booked: R Smith (57th), S Knight (71st).
UWI — Nicholas King, Taneil McKenzie, Geraldine Bennett (Davian Shakes 55th), Rushaun Plummer, Javoy Belnavis, Giovani Reid (Thorn Simpson 79th), Michael Heaven, Zhelano Barnes, Shuwayne Barrett, Jabari Hylton (Trey Bennett 68th), Trivante Stewart.
Subs not used: Juhmurly Brissett, Rohan Beadle, Andrew Humphrey, Tyrique Henry.
Booked: T Stewart (22nd), T McKenzie (30th), M Heaven (32nd), Z Barnes (76th).
Referee: Okeito Nicholson
Assistant referees: Ricton Archer, Joshua Jackson
Fourth official: Doyen Tummings
Match commissary: Elaine Walker-Brown
Yesterday's results
Dunbeholden 0, Humble Lion 0
Portmore 2, UWI 1
Vere 1, Tivoli Gardens 1
---
Now you can read the Jamaica Observer ePaper anytime, anywhere. The Jamaica Observer ePaper is available to you at home or at work, and is the same edition as the printed copy available at http://bit.ly/epaperlive