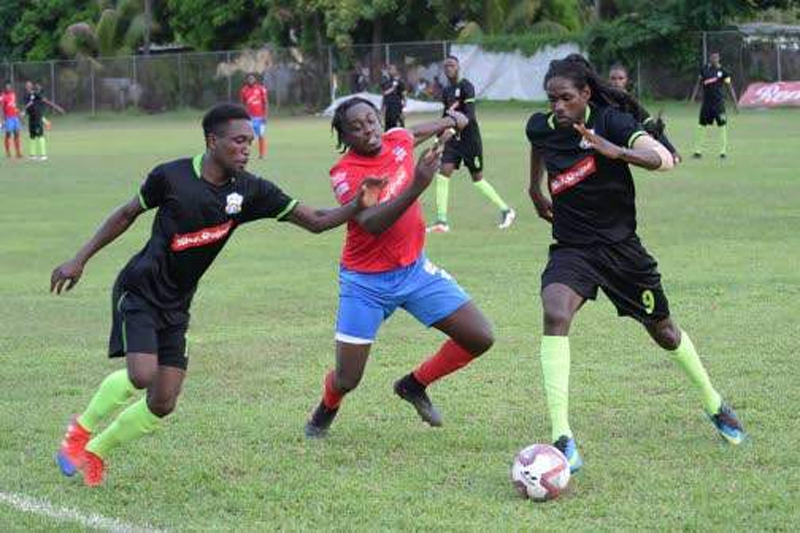 Tajahe Dixon (right) of Molynes United makes a move past Dunbeholden's Kemo Gayle (centre)
Molynes look to stretch streak to 7 wins
BY HOWARD WALKER
Senior staff reporter
walkerh@jamaicaobserver.com
Sunday, October 13, 2019
Promoted Molynes United will look to continue their brilliant start to the Red Stripe Premier League (RSPL) football season when they travel to Harbour View FC, hunting their seventh-straight win.
Start time is set for 7:00 pm.
In games to begin at 3:30 pm: Dunbeholden FC host Humble Lion FC; Portmore United tackle The University of the West Indies (UWI) FC; and Vere United take on Tivoli Gardens FC at Wembley Centre of Excellence. In the other 7:00 pm game, Waterhouse FC host Arnett Gardens FC.
Molynes, the latest team from the powerful Kingston and St Andrew Football Association (KSAFA), have hit the ground running in this their historic first season in the nation's top-flight football competition. All eyes will be on them to see if they can continue their magical run.
They lead the table with maximum 18 points from six games. Harbour View are in third spot with 10 points and looking to close the gap with a home win.
The Lijyasu Simms-coached Molynes United have brushed aside defending champions Portmore United (3-0), UWI (3-2), Vere United (1-0), Arnett Gardens (2-1), Dunbeholden United (1-0), and Mount Pleasant (1-0) for a perfect start.
Harbour View, on the other hand, started well, winning their first two games before losing two straight including an embarrassing 0-7 defeat to Waterhouse. But they got back to winning ways with a 1-0 win over Dunbeholden.
Today promises to be an interesting encounter as Molynes' mettle will be tested while taking on one of the former champions.
Second-placed Waterhouse, on 16 points, will be hoping that Molynes United slip so they can jump to the top when they play fifth-placed Arnett Garden (eight points).
Waterhouse have won five of their six games, and face an inconsistent but dangerous Arnett Gardens who have only tasted victory twice this season.
At Royal Lakes Complex in St Catherine, home team Dunbeholden FC, sitting ninth on six points, host a Humble Lion outfit — fourth with nine points — looking to stay in touch with the leaders.
Dunbeholden have lost their last two games and must return to winning ways or they could very well fall into the relegation zone.
After winning their first game, Humble Lion went four games without a win before they clipped Vere United 1-0 in the Clarendon derby last week. Both teams are physical teams and it should be a bruising encounter.
Having surged to the mid-table position, champions Portmore United will be aiming to step closer to the leaders when they welcome the UWI to the Spanish Town Prison Oval.
After a poor start, Portmore United are up to seventh with seven points while UWI, who won their first game, have gone winless in their last five games. UWI have slipped to 10th with five points. They are just one point and on spot above the relegation zone.
Wembley Centre of Excellence in Clarendon will feature a clash between two teams, both looking to climb out of the relegation zone.
Promoted Vere United are 11th with four points, the same as last-placed Tivoli Gardens. Both teams have won just once but Tivoli Gardens seem to be playing with a little bit more confidence and should eke out a crucial win.
Tomorrow, Cavalier FC host Mount Pleasant Academy at Stadium East in a game slated to start 8:30 pm. Cavalier are sixth on seven points, while Mount Pleasant are eighth with six points.
Cavalier have won only once in their last five games while losing three times and should be low on confidence. Mount Pleasant have won only once this season and sit just two points above the relegation zone.
---
Now you can read the Jamaica Observer ePaper anytime, anywhere. The Jamaica Observer ePaper is available to you at home or at work, and is the same edition as the printed copy available at http://bit.ly/epaperlive