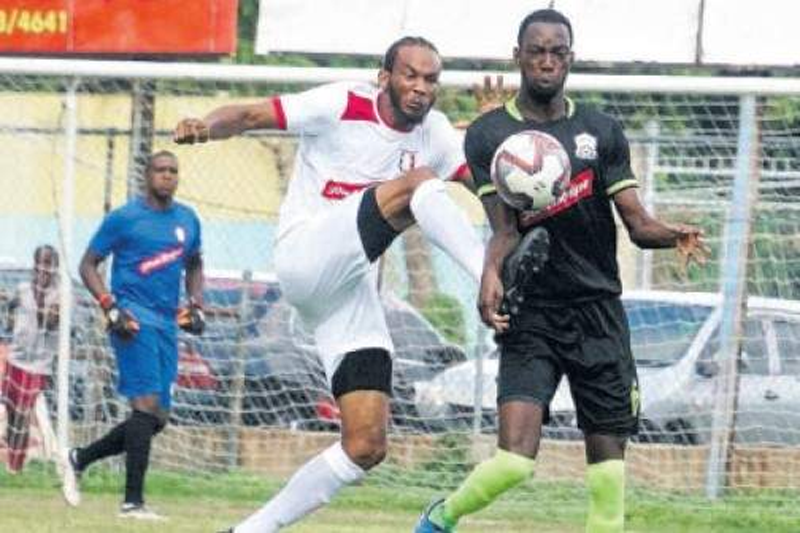 Molynes United clip Arnett Gardens to make it four from four
By Dwayne Richards
Observer writer
Tuesday, September 24, 2019
Ten-man Molynes United Football Club (FC) clipped Arnett Gardens FC 2-1 to register their fourth win in as many matches in the Red Stripe Premier League at Waterhouse Stadium on Sunday.
Goals from Nicholas Nelson and Tyrique Wilson helped secure the win for the premier league new boys, while Vishinul Harris got the consolation for Arnett Gardens. From the first game of the season Molynes United have looked like they belong and Sunday was no different.
They created the first chance of the game when an inswinging corner kick from Nicholas Nelson was headed just over the crossbar by central defender Kemar Seivwright.
Molynes United continued to make their presence felt in the game and Nelson gave them the reward for being the better team when he cut inside a defender and powered home from inside the goal area in the 19th minute.
Nelson went from hero to villain nine minutes later when he was given his marching orders by referee Seffran Dewar for violent conduct, leaving his team to play more than 60 minutes a man short.
Expectedly, Arnett Gardens enjoyed the lion's share of possession for the rest of the first half and goalkeeper Leon Taylor dived smartly to his left to save a whipped effort from Paul Wilson. He then produced a brilliant reflex save to deny Kemar Reid in first half stoppage time.
A tactical adjustment by Molynes United Coach Lijyasu Simms saw Jermey Nelson switched from midfield to lone striker and the ploy almost paid dividends in the first minute of the second half. A knock-down by Nelson into the path of Fakibi Farquharson saw the winger execute an exquisite goal-bound shot that was tipped unto the crossbar by an alert Damion Hyatt.
Arnett Gardens then drew level two minutes later when their mercurial forward Harris controlled the ball neatly on his chest inside the area before firing past Taylor to make it 1-1 with just 48 minutes played. Farquharson then had a glorious chance to restore his team's lead after he was played in for a second time by Nelson, but he fired high and wide of a gaping goal.
At the other end the nippy Wilson fired just high as the pace of the game intensified. Tyrique Wilson then produced another stunning strike from outside the area, controlling on the chest before firing past the hapless Hyatt in the 66th minute.
"At no point in the second half did Molynes United look like a team playing a man short and were deserving winners at the end of the ninety minutes.
"This (win) shows what we are here about. We are no joke. Going down to 10, I wasn't jittery or anything because we prepare for this. As you can see the players followed the instructions and it bear fruit, and we came out victorious," said Simms.
Arnett Gardens Assistant Coach Lamar Brown said silly goals cost his team and the issue of goalscoring has to be addressed with immediate effect.
"When we had the momentum a silly mistake caused us to concede a goal and at that time it would have been devastating to the players even though they should have moved on from that.
"For us, not scoring put pressure on the defence line so we have to work on that. It's a long season but definitely we need to start scoring goals."
Molynes United now sit pretty atop the league with 12 points, while Arnett Gardens are mired in mid-table with four points from four games.
Teams: Molynes United FC — Leon Taylor, Sergeni Frankson, Kemar Seivwright, Keith Wright (Devon Hodges 76th), Tyrique Wilson, Patrick Sheckiude (Tajahe Dixon 70th), Nicholas Nelson, Anthony Greenland (Orane Ferguson 60th), Jermy Nelson, Fakibi Farquharson, Andrew Peddlar Subs not used: Bobiander Evans, Jermaine Reid, Troy Reid, Akeem Stewart Booked: Nicholas Nelson (ejected 28th), Frankson (47th) Seivwright (60th) Arnett Gardens FC — Damion Hyatt, Deno Schaffe, Jamar Martin, Odane Samuels (Lamar Nelson 67th), Shamar Pryce, Rickardo Oldham, Paul Wilson, Vishinul Harris, Lennox Russell (Deacon 80th) Kemar Reid, Kimani Airbourne (Patrick Brown 80th) Booked: Oldham (27th), Schaffe (62nd), Nelson (74th), Reid (74th) Subs not used: Tajay Griffiths, Steve Clarke, Jahwani Hinds, Javoni Simms Referee: Seffran Dewar Assistant referees: Rolonza Bennett, Jermaine Yee-Singh Fourth official: Neresssa Goldson Match commissioner: Beverly Melbourne
Now you can read the Jamaica Observer ePaper anytime, anywhere. The Jamaica Observer ePaper is available to you at home or at work, and is the same edition as the printed copy available at http://bit.ly/epaperlive