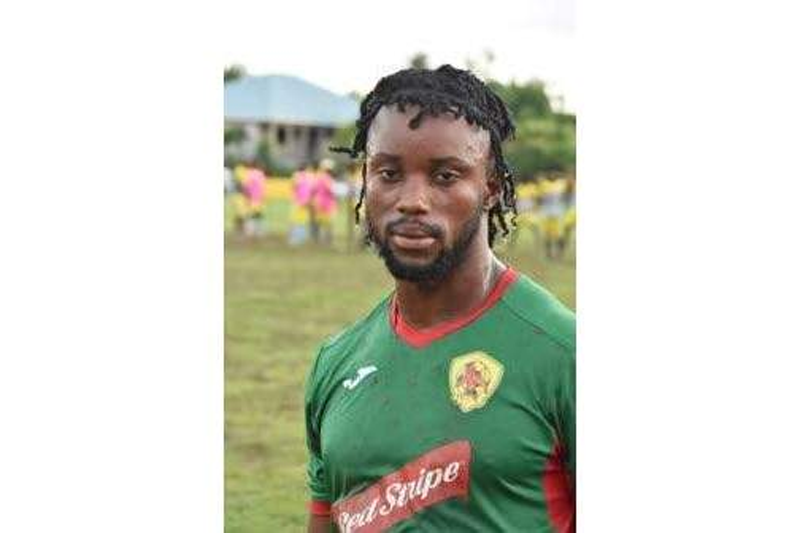 Jason's back! Former national youth player seeks career-saving path
BY SHERDON COWAN
Observer staff reporter
cowans@jamaicaobserver.com
Friday, September 27, 2019
One cannot deny the importance of playing overseas. In fact, it is often said that if you want to be a world-class player then your aim should always be to play in the top European leagues.
This philosophy sits all too well with Jason Wright, and as such, the former national youth representative has returned home to hit the proverbial reset button on his career.
Wright decided to take this route after injury robbed him an opportunity to make it big on the international scene, following three successful years at Rutgers University and one at Clemson — both in the United States.
During his three seasons at Rutgers, the nippy forward, who was instrumental in Jamaica's qualification to the 2011 Under-17 World Cup in Mexico, scored 29 goals in 57 games, while netting eight in 19 games at Clemson.
"I made a Super Draft, but unfortunately I didn't receive a contract from it because I was injured, so it just was an unfortunate situation.
"But after that I've just been around Europe and America, you know, trying to find my feet. But it didn't work out in my favour and so I decided, you know, might as well I come back home and start from scratch again, and prove myself to my supporters and people that have always believed in me," Wright told the Jamaica Observer in a recent interview.
Since returning home less than a month ago, Wright went straight to Red Stripe Premier League (RSPL) outfit Humble Lion FC, where he has been gradually finding his footing.
"It's been a good platform, you know and I like it here. I'm motivated because I want I want to introduce myself to the people again, because I've been off the scene for a while. So that's my motivation going forward," the former Wolmer's Boys' School standout shared.
"So I have no complaints, as I said, I'm excited about this journey that I'm going to go on being back home. For me its just striving to make a mark and just announce myself back again and I'm enthusiastic to see where it takes me," Wright added.
The 24-year-old got his first taste of RSPL action when he came on as a substitute in the Clarendon-situated club's goalless encounter against Waterhouse FC at Effortville Community Centre on Sunday.
Though slightly on the bulky side, Wright has by no means lost his speed and flair, which was well exhibited to the delight of the home fans.
"I like it [getting the first game out the way], it was good, very nice feeling to be back home and I think it's just going to get better going forward," Wright declared.
"If you look at the international level, strength and power are important attributes and I think playing in different environments require different type of attributes. For me, one was getting stronger and more powerful," he added in reference to his burly feature.
With his appetite for more playing time now whetted, Wright has set lofty goals for himself in the Andrew Price-coached team.
"To be honest, this season, I am looking to score a lot of goals, looking to just make an impact, just to show and remind people of who I am and what I can do. And I'm just excited to see where it goes from there," the sports communication major revealed.
But beyond that, Wright's biggest aspiration is to once again sport the national colours, this time for Theodore Whitmore's senior Reggae Boyz team.
"Well, that's the dream for any player, and it wouldn't be any different for me. It would indeed be a huge achievement for me to make the Reggae Boyz team.
"But my focus right now is on just playing as best as I can and showing Jamaica what I can do and see where it goes from there. So it is just onwards and upwards from here, as I said, I'm ready and you guys will see," Wright ended in an air of confidence.
Meanwhile, Price believes Wright will eventually become a valuable asset to the club.
"Jason is a good quality player, he has a lot of potential and i believe he is a good addition to our squad, we saw him come on today (Sunday) and when he did he showed his value and he really looked the part out there. So as the season progresses and he gets a lot fitter Jamaica will see some more of him," Price said.
Now you can read the Jamaica Observer ePaper anytime, anywhere. The Jamaica Observer ePaper is available to you at home or at work, and is the same edition as the printed copy available at http://bit.ly/epaperlive